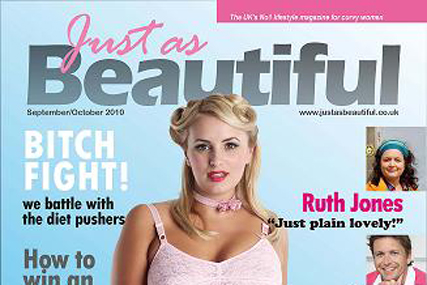 Just As Beautiful is an online magazine for curvy women who feel alienated by consumer publications that feature only slim celebrities and models on their covers.
The magazine will be available to order direct from the site and from selected stores nationwide. The 60-page magazine will be priced at £4.75.
It contains 10 pages of advertising, which the publisher hopes to increase. Among advertisers booked in are plus-sized fashion brand Igigi and the luxury spa, Champneys.
The publisher recruited Sue Thomason, the former IPC women's consumer journalist, to oversee the launch issue and to be the permanent editor of the printed version.
The magazine will focus on fashion, food, beauty and health features, as well as a guest celebrity chef in each issue, the first of whom is TV chef James Martin.
Publisher Ronnie Ajoku set up the online magazine in 2007.
He said: "I just noticed there were quite a lot of bad things being said about plus-sized women. In the UK, the average woman is size 14 to 16, and I felt no one was dealing with that reality. It's not fair and it's not right just to have slim celebrities and models on the covers of every magazine."
Within six months of setting up the online mag, the team had caused a buzz with the national press. ITV1 reality show 'Holly & Fearne Go Dating', presented by Holly Willoughby and Fearne Cotton, contacted the team to set up a fashion show for curvy women, from which the presenters chose a candidate to go on a date with the male subject of the TV show.
Ajoku said: "The guy liked curvy women."
He said another reason for setting up the online magazine was to show support for plus-sized women who were suffering from mental health issues as a result of society's intolerance to their shape.
He said: "Don't get me wrong, we're not encouraging obesity. But some people are naturally born bigger. These people are forced on diets which don't work and then their weight ends up yo-yoing, then they sink into depression and don't want to go to work. I wanted to break that vicious cycle".
Editor Thomason, who had previously worked for IPC for 16 years on titles Now and Woman, and is herself a size 18, said: "I've been a body image and compulsive-eating coach for five years, which I went into due to a personal experience.
"I used to be bigger, but now I'm very healthy. I want to promote the idea that you can be a healthy size 18."
Just As Beautiful is published by London Business Communications and Publishing.