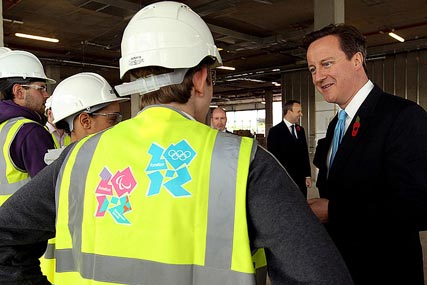 Global brands Vodafone, Google, Facebook and Intelhave all come out in support of Cameron's new initiative to invest in the area. Speaking in Shoreditch yesterday (4 November), the Prime Minister said current copyright law was a barrier to entry for global hi-tech brands.
He noted: "The founders of Google have said they could never have started their company in Britain.
"Over there [America], they have what are called 'fair-use' provisions, which some people believe give companies more breathing space to create new products and services."
Such changes could give creatives limited use of the IP developed by others. Copyright worries about viral campaign parodies could be allayed, for example, he said.
Cameron said a review of UK copyright law was underway and a report would be published in April.
The controversial 2012 Olympic Games Media Centre, which does not yet have a legacy use, could be used as a 'hothouse' similar to those used by start-ups such as Google and Facebook in California.
However, some legal experts have countered that any review is a waste of time, as copyright law is dictated from Brussels, not Westminster.
Mark Owen of media and entertainment law firm Hartbottle & Lewis said: "The focus is apparently to be on fair use defences, in other words, what types of uses of copyright works should be allowed without having to get the rights-owner's permission.
"These are largely dictated by EU law and the UK has little room to manoeuvre on them. It is also unlikely that the current state of the defences is why the US has Silicon Valley and the UK does not," he said, adding that tax breaks might be a better incentive.
The Digital Economy Bill, which is set to become law next year, could force rights holders to fund 75% of the costs to police the internet for copyright infringements.