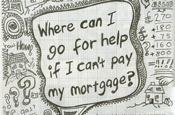 The campaign centres around the website www.realhelpnow.gov.uk, which provides information for individuals and businesses on subjects such as redundancy, managing bills and financial support.

According to Brown, the aim of the website is to "spell out" all the government help available for those suffering from the effects of the economic downturn.

A print campaign promoting the campaign ran today in national press.

The ad, which features a number of doodled images, asks: "Where can I go for help if I can't pay my mortage?" and carries the strapline "Real help for homeowners now".