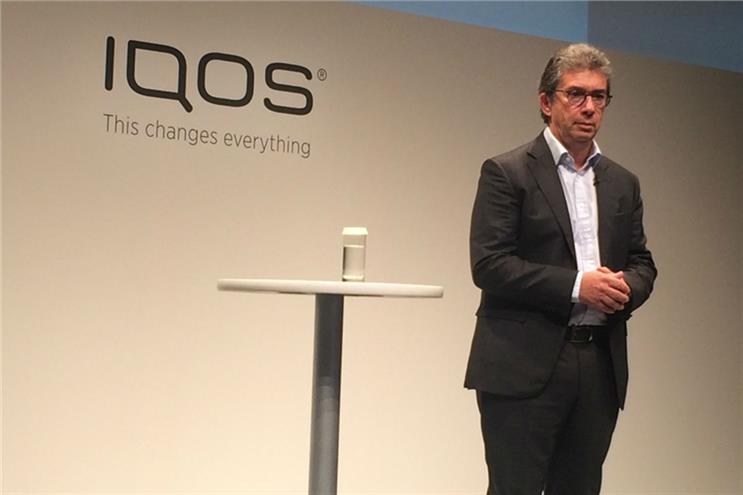 In Tokyo yesterday, Philip Morris International held the global launch of what it terms the "next generation of Iqos", its heated tobacco brand, in the form of new products called the Iqos 3 and Iqos 3 Multi.
The decision to announce the launch in Japan was a nod to its status as the country where Iqos debuted in 2014 and the brand's biggest of the 42 markets it operates in, with Iqos consumers there making up around 20% of the total tobacco sector, according to the company. The move follows calculated efforts by PMI to engage more advertising and PR agencies as partners, and the shift of a sizeable portion of its Iqos business in Japan out of Publicis to an agency under McCann Worldgroup.
Where PMI has previously focused heavily on the ostensible health benefits of Iqos, at a press conference, chief executive Andre Calantzopoulos spoke at length about the look and feel of the new products, and the range of "beautiful accessories" that accompany them. He said they were based on consumer feedback and aimed to improve the experience for consumers. The upgrade includes "a more harmonious texture" and "highly intuitive user interface", he said. An improved charging system means the Multi effectively indulges chain smokers, enabling "a minimum of 10 consecutive heat stick experiences", he said.
Calantzopoulos added that the Multi offered 576 exterior customisation options "to make Iqos a closer companion". He said from a user perspective, he thought of Iqos "like a friend who is with you throughout the day", and for that reason the products need to be visually appealing and tactile. Iqos has enlisted artists and craftspeople to co-create products in the past and Calantzopoulos indicated tie-ups would become a bigger part of product marketing for the brand.
"Our ambition is to make it as beautiful as possible and as personalisable as possible," Calanzopoulos said. "But it's not only a beauty object obviously so it will always be a balance between achieving the most desirable design and achieving what it needs to. There is room for more collaboration in the design sphere and we will look at it."
Observers have—sometimes favourably and sometimes derogatively—drawn parallels between Iqos's positioning and that of Apple, and indeed the conference suggested efforts to emulate the world's most valuable brand. Under the banner 'World Premiere' and against a backdrop bearing the line 'This changes everything', Calantzopoulos spoke of "fans", bringing people into the "Iqos family", and pre-orders. In the exhibition area, a video with an intense voiceover held forth on the rigorous R&D behind Iqos, concluding, "this is precision; this is the science behind a smoke-free future".
Products from the new Iqos range. Image: Philip Morris International

Slick brand imagery and products are an important means of winning over sceptical smokers. At the nine Iqos stores across Japan, consumers are invited to become 'members' in a loyalty programme that encourages them to drop into retail outlets for coffee and grants them access to exclusive events such as intimate concerts. But to the side of the Iqos flagship store in Ginza before the press conference, cigarette smokers stood in the rain under Iqos hoardings—stubborn remnants of the world Philip Morris says it wants to leave behind.
Calantzopoulos admitted on stage that "like all friends, it can take some time to get acquainted" with Iqos, which tastes and smells different to regular cigarettes. One PMI employee likened the odour vaguely to that of "a baked potato". In an interview, Marian Salzman, SVP of communications, described it as smelling "as if a housekeeper had gone slightly crazy with the air freshener". But she said the important thing was that as a nonsmoker, "the smell doesn't offend me".
Aside from touting reduced toxicity for smokers themselves, presenting Iqos as a product that shows consideration for others, and a facilitator of harmony, has been effective in growing share in Japan, she said. "One thing we know is that ash in the home is a big driver," she said. "Ash is a source of marital discord. So [a smoker] has a happier life switching to Iqos."
Another way to get people to switch has been through Fathers' and Mothers' Day promotions—bringing children concerned about their parents' unhealthy habit on-side. "In Japan, a parent does anything for their children, so if a child asks mum or dad to contemplate Iqos versus cigarettes, the chances are you'll try it. Another factor is social pressure. If you see you're not so welcome [smoking cigarettes], you'll give it a whirl."
A further factor is price: despite the relatively high initial cost of its hardware, Philip Morris positions Iqos as less costly than cigarettes in the longer term. Calantzopoulos said as part of an effort to reach out to "more conservative smokers with different communications, different arguments", Iqos would introduce a range of heat sticks 30 yen cheaper than the existing ones.
He acknowledged that the environment was already becoming more challenging, with growth in Japan slowing as competitors step up efforts to market their own products (a premises for glo, a rival brand to Iqos under BAT, is currently under construction around the corner from Iqos's Ginza outlet). But he said he believed that within three years, "the majority of people who use nicotine products in Japan will be heated tobacco consumers".
Looking further ahead, emerging markets are likely to become more of a priority. Tobacco companies have been criticised for continuing to aggressively market cigarettes in countries where the average consumer cannot afford 'smokeless' alternatives. Salzman claimed while "we are definitely selling" cigarettes in developing countries, PMI invests less than it used to in marketing them there, channeling more spending into Iqos.

A spokesperson for PMI later clarified that on average, the company devoted 40% of commercial expenditure to smoke-free products in 2017 and is on track for more than 55% this year. In more advanced markets such as Japan, more than 80% of spending goes on the smoke-free segment, the spokesperson said.
"Ten or 15 years ago, Marlboro was really grade A marketing, but now I don't even know who's responsible for those brands," Salzman said.
Coming up with a safer product less affluent people can afford will be the company's next challenge, she noted. In response to calls to dispense with regular tobacco, she said people would continue to smoke "whether or not Philip Morris sells cigarettes so it's better to use those profits to keep investing in better quality products that are more healthful".
At the same time, company executives have publicly advised that people quit smoking if they want to avoid the risks associated with tobacco altogether. Earlier this week, PMI came under fire for running smoking cessation ads in the UK, with critics slamming the move as covert marketing by association.
"Whenever you try to engineer change there are going to be naysayers," Salzman said. "People's natural inclination is to say Philip Morris is bad… They don't believe a company like ours could be good enough to try to make things better where ironically it's both a moral and commercial imperative to do just that."
As someone initially resistant to joining a tobacco company, Salzman still appears to see herself as somewhat of an outsider, but one who supports the stated goal of reducing the damage caused by cigarettes. "I would say these guys have put $4.5bn (£3.5bn) into trying to do a better job for people and I'm not sure throwing bombs at them sitting on the sidelines makes a lot of sense," she argued.

A version of this article was first published by Campaign Asia-Pacific