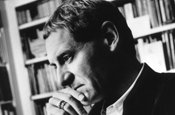 Motion, who is professor of creative writing at London University, joins the watchdog along with Louisa Bloch, the former editor of science programming at Channel 4.
They replace Donald Trelford, former editor of the Observer, and Christine Farnish, the chief executive of the National Association of Pension Funds, who are stepping down after serving their six year term as council members.
Chris Smith, the ASA chairman, said: "Andrew brings a unique perspective on the impact that language and images can have while Louisa's experience of programme making lends itself to understanding the balance between creative freedoms and editorial judgement."
Will Andrew Motion bring a fresh perspective to the ASA? Comment below.