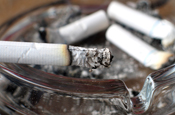 However, the ban will only come into force from 2011, due to fears that an immediate ban could hit businesses during the recession.

The Government will introduce the rules in an attempt to stop young people from taking up the habit.

Speaking on the BBC's Today radio programme this morning, Johnson said: "(Tobacco) advertising has been removed from TV, film and newspapers.

"The only point now where there is adversiting is point-of-sale displays."

He said that evidence from other countries indicated that banning in-shop advertising for cigarettes reduced the number of young people taking up the habit.

He said the ban would be introduced in supermarkets in 2011, with small retailers not affected until 2013.