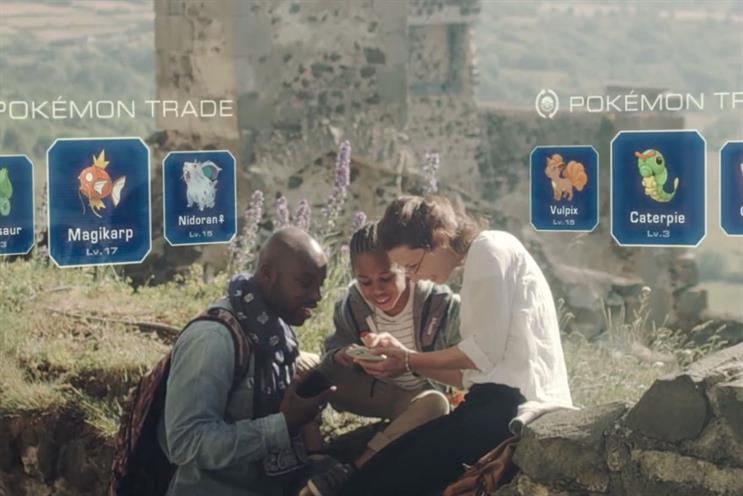 The app allows players to chase characters superimposed over a real-world environment and, according to figures from SimilarWeb, already has a bigger installed base than Tinder in the US.
With consumers finally exposed to the concept of AR, will more brands put budget behind AR campaigns?
While marketers can work with third parties such as Blippar or Shazam on AR activity, the technology has remained niche. One oft-cited barrier is that consumers, already spoilt for choice with apps, are less likely to download another app to experience branded AR content.
For Nik Roope, founder and executive creative director at Poke London, Pokémon Go shows AR has finally passed a "litmus test".
"This is the first example of mainstreaming," he says. "It shows how you might turn an interesting novelty experience into something with more direction."
While brands are unlikely to start building their own AR executions immediately, they could borrow some of the more successful mechanics from Pokémon Go for their own campaigns.
One example given by Paddy Green, senior social media executive at Fetch, is incorporating geocaching – a long-established version of hide-and-seek that incorporates digital and real-world elements. Geocaching has long been popular with the tech community but Pokémon Go has popularised the idea of finding digital items at physical locations.
"[Such] technology could be used by other brands to drive mobile users to outdoor experiences," Green says.
AR, or mixed reality, is gaining traction more generally, Roope adds, pointing to Microsoft's upcoming HoloLens headset. It might even make more sense for brands than virtual reality, which is also becoming popular.
While VR is about closed, self-contained worlds, AR is closer to a platform on which brands can build.
Part of the trouble with VR, Roope argues, is that brands have to build entire worlds for one campaign. That does not have to be the case with AR if brands can find a way to integrate into existing, popular worlds such as Pokémon Go. AR campaigns can be less about building one-off executions and more about integration in a long-term, collaborative way.
Roope points to the way the maturation of social media eased brands on to mobile. In the same way, innovations such as Pokémon Go might pave the way for brands to understand AR as a platform rather than a gimmick.
Five things to know
1. Different from VR
Virtual reality is an escape, giving the user access to self-contained worlds. Augmented reality layers virtual objects over the real, physical environment.
2. Tech involvement
Microsoft has released HoloLens to developers, while Google has invested in a mysterious AR start-up called Magic Leap. Apple has also been snapping up AR-related patents.
3. Multiple uses
Disney demoed an AR colouring book last year that brings characters to life as they are coloured in. Microsoft sees AR as a productivity tool.
4. Brand experiments
Make-up brands have been particularly forward-thinking. Sephora launched a lipstick-testing tool, while Unilever's Lakmé rolled out an app to let Indian users trial different looks.
5. Big deal in social
One of Snapchat's most beloved features is its filters. The facial-tracking software can detect a user's face and overlay different masks for comic effect. Facebook bought a similar service, Masquerade, earlier this year to keep up with Snapchat.