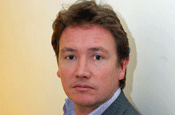 The email, which contained a zip file containing the contractual and salary information of all CHI employees, was sent from the email account 'workexperience3' late last Thursday night.
Senior chiefs at the agency's New York office intercepted the email and the server was shut down to ensure the information was removed from all email accounts.
However, on Friday morning, the file was sent again, this time from the email account of a UK account executive who was in a meeting at the time.
The agency's server was then shut down for a second time, but many of the agency's employees had already seen the information.
One member of staff, thought to be a creative, is understood to have forwarded the email to a friend at Bartle Bogle Hegarty.
It is understood that staff at the agency believe an outsider was responsible for the suspected computer hacking.
The police are now investigating the matter further. Johnny Hornby, the founder of CHI & Partners, made light of the issue, joking: "The email must have been created as an April fool - everyone at CHI knows we all earn double those salaries."