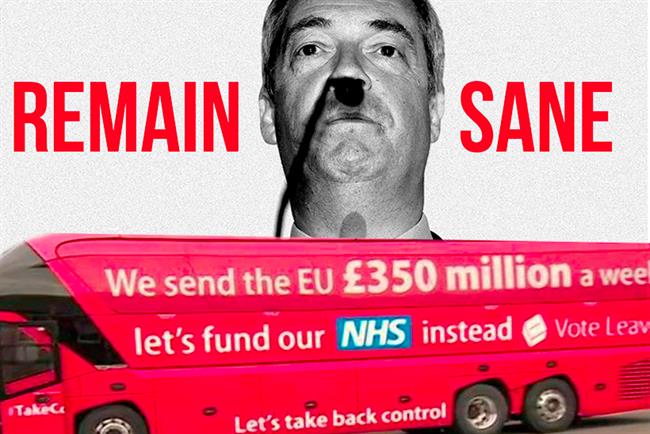 By last week, an online petition on the UK Parliament website, demanding the regulation of political advertising and an end to "outright lies and misrepresentation from the political elite in order to gain votes", had attracted more than 40,000 signatures.
Another petition is calling for the creation of an independent regulatory body "to ensure truth in political advertising".
What has brought all this to a head is the furore created by the Leave camp's claim, emblazoned on posters and the side of its battle bus, that Britain has been giving the EU £350m a week – money that could be spent on the cash-strapped NHS.
Furious at what they regard as a spurious assertion, Remainers have questioned why politicians are able to ignore the rules on legal, decent and honest advertising by which all other advertisers are bound.
On the face of it, the case for extending the Advertising Standards Authority's remit to political advertising seems open and shut.
In reality, the issue is far from simple. Political advertising has always been such a hot potato for regulators that they have strongly resisted policing it.
This is not to suggest that the rule-makers have been backing away from challenges. Indeed, the ASA's control has steadily increased. In 2004, its remit was extended to cover broadcast media and, since 2010, it has made significant progress in civilising the "bandit country" that was online marketing.
However, regulators believe that ruling on political ads would put them in a position that, at best, would be invidious and, at worst, impossible.
Until the late 90s, political advertising was subject to some parts of the codes, including offensiveness, but exempt from others covering substantiation and misleading claims. M&C Saatchi's infamous Conservative Party 1997 "Demon eyes" ad, featuring Tony Blair, was ordered to be dropped by the ASA, which ruled it offensive.
In 1998, the Neill Committee on Standards in Public Life recommended the establishment of a regulatory body to oversee political advertising. But the suggestion was never followed through and, in 1999, the Committee of Advertising Practice decided to exclude political advertising from the codes.
This was partly because of the likelihood of the ASA having to rule on complaints after an election had taken place and partly because of the lack of consensus among the main political parties about bringing their advertising wholly within the codes.
Whether the bruising referendum campaign – in which pledges about immigration controls and NHS funding were immediately watered down after the result – should lead to a regulation rethink is a debate that is bound to rumble on.
Is political advertising just part of a democratic process that is under the constant scrutiny of voters, political rivals and the media? Or is it a bizarre anomaly that rides roughshod over consumer rights – so much so that the Electoral Commission, or even the courts, may be needed to bring some future order?
LAWYER
Brinsley Dresden
Head of advertising and marketing, Lewis Silkin
"It's anomalous and bizarre that, when it comes to advertising, we have more rights as consumers than we do as voters. The CAP codes demand that claims are substantiated but the claim that Brexit could save £350m
a week for the NHS never was. And I'm certain Ukip's 'Breaking point' poster about immigration would
have broken the rules about responsible advertising.
"I don't believe the ASA should have responsibility for regulating political advertising. But politicians should be held accountable for their claims, either through a body established by the Electoral Commission or in the courts."
REGULATOR

James Best Chairman,
Committee of Advertising Practice
"At CAP we've no inclination to intervene in the regulation of political advertising. Speaking personally, I believe that, in the democratic process, there will always be claims and counter-claims that are genuinely believed by their proponents. Should the ASA be put in the position of having to weigh up the veracity of contradictory points of view? Also, the referendum would have been done and dusted before it could rule on the £350m saving claim.
"It's easy to see why people are upset by this but it's surely better that political advertising is judged by public opinion and media scrutiny."
MARKETER

Amanda Mackenzie
Incoming chief executive, Business in the Community
"I'm ashamed to admit I'd forgotten that political ads are not subject to the CAP codes. But I bet that if you asked a million consumers if they thought political advertising was controlled, no more than a handful of them would know this wasn't the case.
"Not only is it astonishing that this advertising is unregulated, it's also outrageous. I can't market my goods and services and not expect their advertising to be regulated.
"Perhaps a solution to this would be to have the ASA regulate political advertising while taking advice from expert bodies such as the Electoral Commission and the Office for National Statistics."
TRADE BODY

Ian Twinn
Public affairs director, ISBA
"It's perfectly fair for people to want political advertising regulated but it wouldn't work. Political campaigns are very fast moving. It's not like product advertising, where you can change an unsubstantiated claim.
"The trouble with political advertising is that there's no substantive objectivity about it. I think it would be wrong for a self-regulatory body like the ASA to go in for political censorship.
"For the sake of democracy and free speech, the current system should remain. Regulation shouldn't be taken on by the Electoral Commission, which hasn't been covering itself in glory, or the courts, whose objectivity has been questioned."