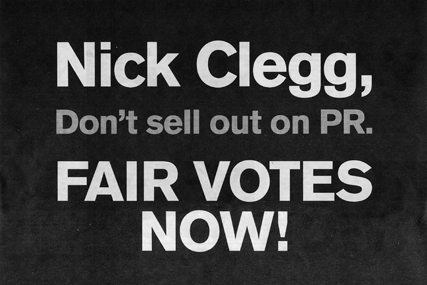 Clegg is expected to meet with other senior Lib Dems this lunchtime to agree on a set of concrete proposals for the Conservatives, and 38 Degrees fear that he could compromise on his previous demands in exchange for the perks of government.

The organisation has joined forces with political websites Vote for a Change and Take Back Parliament to run the ads, which carry the message: "Nick Clegg, Don't sell out on PR. Fair Votes Now!"

The work features in today's copy of The Times, and will also run online in the form of a banner ad on a number of a websites.

The £15,000 required to produce and run the ad was raised from contributions made by visitors to the 38 Degrees website over the weekend following Friday's election result and after the organisation made a plea to help "concentrate Lib Dem minds and prove how much we care".