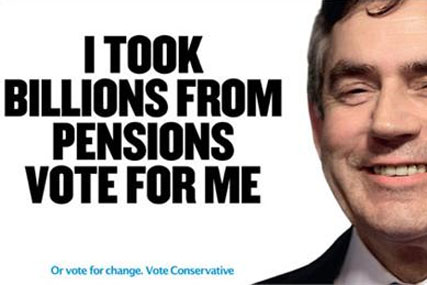 Between them, the three main political parties spent £16.1m on media between 1 March and 31 May 2010, 66.9% of which was on direct mail or door-drops, according to figures from The Nielsen Company.
Neither the Liberal Democrats nor the Labour Party spent any money on outdoor, despite the medium's historic role in elections and both parties releasing images of high-profile posters during the election campaign.
The Conservatives, whose advertising was by Euro RSCG and M&C Saatchi, was the biggest advertiser of the three, with Tory spend representing 54.9% of the total for the three parties.
The Tories spent £3.6m on direct mail and door-drops and £78,211 on press, plus non-paid-for online activity. Its budget represented a marginal increase on 2005's figure of £8.7m.
Excluding online, the Lib Dems, who worked with Iris and The Assembly, spent £4.4m over the period, up from £1.6m in 2005. Apart from £33,527 worth of press ads, all spend was on direct mail or door-drops.
Labour spent £2.9m on media, excluding online, during the same period, an increase on its £1.6m 2005 budget. Apart from £26,127, which went on Saatchi & Saatchi press ads, the rest was on direct mail and door-drops.
The 2005 election was notable for a shift towards DM from press and this trend continued during this year's election, with just £137,867 spent on press by the three parties.