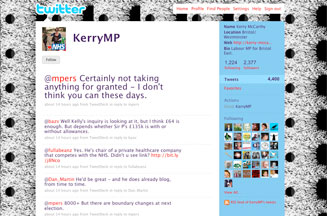 While many brands still appear wary of social media, politicians are jumping on the Twitter bandwagon in droves.
The extraordinary online support for the NHS that emerged earlier this month through the #welovetheNHS Twitter profile is viewed by many political activists as evidence of the power of the micro-blogging site as a spontaneous communications tool.
However, #welovetheNHS did not begin with political intentions; it was comedy writer Graham Linehan's impassioned response to damning criticism of the 'socialist' institution by opponents of US President Barack Obama's proposed healthcare reforms.
Yet, subsequent tweets in support of the NHS by Prime Minister Gordon Brown and his wife Sarah on 13 August ensured that the government became closely affiliated with the topic. The Labour Party has since used it to drive traffic to its website, with an open letter thanking NHS supporters on Twitter and attacking the Conservatives for 'undermining' the health service.
Craig Elder, online communities editor at the Conservative Party, says Labour turned the pro-NHS activity into 'something partisan' despite its apolitical beginnings. However, the campaign has also demonstrated how effectively social media sites can be used by the politically active to spread their message to the wider public.
Twitter's major breakthrough came in June, when it became a means of sharing information during the Iranian general election, despite a crackdown by the authorities in Tehran. 'That was the first time we have seen it not just complement main-stream news coverage, but supplant it,' says Elder.
Labour MP Kerry McCarthy, who was last week named as Labour's new media campaigns spokesperson, believes Twitter has the potential to transform politics, making it accessible to citizens in a 'new setting'. Tweeting as the news of her appointment broke, McCarthy said: 'It's a two-prong thing - working with Labour activists and reps, and communicating with voters.'
Hailed by The Independent as the most influential MP on Twitter, McCarthy is responsible for improving the party's use of social media sites ahead of the next general election. Labour has been seen as lagging behind rival parties, whose members have used their relative political freedom and regional strength to create numerous blogs and social media profiles.
Twitter undoubtedly provides a hitherto impossible immediacy of contact. Labour's Twitter feed, for example, urges followers to join specific campaigns. The Conservatives use it to source questions for live webcasts with party leader David Cameron.
However, Twitter is not likely to replace the phone calls, community newsletters and constituency surgeries in which MPs are obliged to participate. For the most part, it is an additional way to communicate with small groups. 'Seen as akin to a chat down the pub, many MPs will see it as a waste of their time at this stage,' admits Elder.
Compared with other public figures, MPs on Twitter have relatively few followers, and those they have are often also politically active. The site became the hot place for political gossip in June when Tom Watson became the first minister to use it to announce his resignation, and Sadiq Khan tweeted news of his promotion to transport minister.
However, Bournemouth University's Dr Darren Lilleker, who researches politics and social media, says the UK's political figures do not have the same appeal to the public as popular tweeter Barack Obama. 'Our MPs think there will be interest in them just because they are on Twitter,' he warns.
Facebook is often a more effective way to engage the wider public. In the run-up to the June local and European elections, the Conservatives asked people to 'donate their status' on Facebook to its 'Vote for change' campaign. Tom Brake, a Liberal Democrat MP, conducts his surgeries online via Facebook. Many other campaigns, such as the Ministry of Defence's Armed Forces Day push, have taken off through a combination of Facebook and Twitter.
While it is difficult for a lone MP to use social media to get a political issue into the mainstream, the sites help them come across as human. They are not just tweeting about their political engagements and views, but what they had for breakfast or did at the weekend.
These individuals are using Twitter to great effect, and are revelling in their online freedom. However, a campaign like #welovetheNHS that grabs the attention of both the public and media, in the UK and beyond, is a little harder to come by, for backbenchers at least.