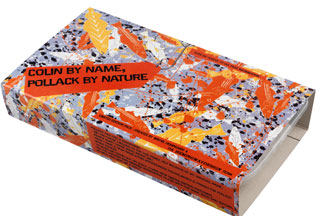 According to Seafish, the government body that promotes the industry, the credit crunch has helped pollack enter Britain's seafood top 10. The fish had traditionally been considered a cheap alternative to cod. It is now positioned as being more sustainable.
As part of Sainsbury's Easter promotional activity earlier this year, the supermarket changed the name of its pollack fish to Colin, which is the French word for hake, another member of the cod family.
The pollack packaging was designed by Red or Dead founder Wayne Hemingway, and inspired by artist Jackson Pollock.

The supermarkets research found that that people were too embarrassed to ask for pollack because of the way it sounds.
Karen Galloway, market insight manager at Seafish, said: 'Pollack's popularity has certainly been helped by the current economic climate as people switch from more expensive fish to cheaper alternatives.'
More than 13,000 tonnes of the pollack species was sold across the UK retail market last year as it came in as the eighth most popular fish.
Salmon is Britain's favourite species with 49,000 tonnes sold, worth £607m. Tuna is second with tinned sales of the cupboard staple contributing heavily to its sales success.