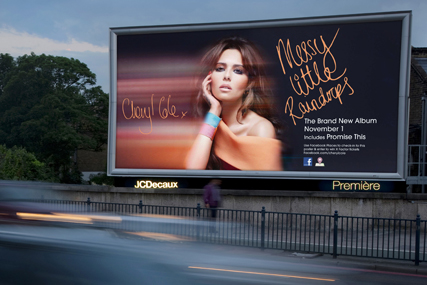 The campaign, which launches today with 114 UK poster locations centred on London and Cole's hometown Newcastle, relies on outdoor posters to bring traffic to the Cheryl Cole Facebook page in order to promote her new album 'Messy Little Raindrops'.

Smartphone users are encouraged to use the Facebook Places app to 'check-in' at whichever advertisement they are close to, to be entered into a draw to win two tickets, travel and accommodation to a live X Factor show.

Users will then receive a Facebook update shared on their Facebook wall announcing that they have entered the competition. The update is aimed to alert the user's social network of the album release.

The music label worked with MediaCom's entertainment division ted@MediaCom to produce the digitally led poster campaign to promote the album.

Polydor senior digital marketing manager Aaron Bogucki said: "Location-based apps like Facebook Places are allowing marketers to amplify offline advertising directly into users Facebook walls.
"Whereas outdoor advertising was a one-dimensional experience, with this campaign we're allowing fans to actively engage with the ad and help spread the message across their network.

John Beardsworth, associate director at ted@MediaCom, said: "Polydor and ted@MediaCom have combined to create a campaign which mashes traditional and digital, turning outdoor sites into wormholes to a digital campaign to win tickets to the X-Factor, using the newly launched Facebook Places technology."