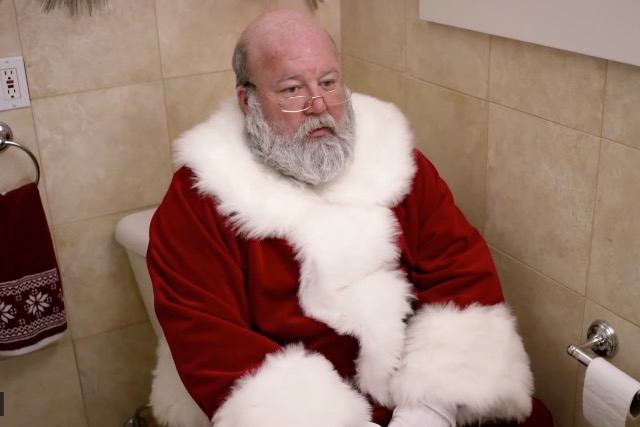 If you think that's bad enough, the foul stench soon wakes the household, and he is joined by the three disgusted looking young girls of the house as he continues to noisily defecate.
"I was dreaming of sugarplums," says the first girl. "And then along came the ghost of Christmas arse."
They berate him - "he's dropping yule logs down his chimney" - and flaunt iPhones they have stolen from his sack, threatening to post in flagrante pics of him on Instagram.
Eventually, they hand him a spray bottle of Poo-Pourri as a present, "so you can keep sneaking without reeking".
The three-minute ad is a follow up to a previous YouTube film by the brand that went viral. It starred a prim and proper "Englishwoman" (speaking in an accent from the Daphne-from-'Frasier' school of authenticity) talking about dropping "behemoths from her cavernous bowels". The spot has so far accrued more than 30 million hits on YouTube.
The star of "Girls Don't Poop" also appears in this "Even Santa Poops" Christmas special as the mother of the three children, sitting on Santa's lap as he releases another volley.
Client: Suzy Bátiz, CEO and founder, Poo-Pourri
Creatives: Pete Marquis, Jamie McCelland, Joel Ackerman