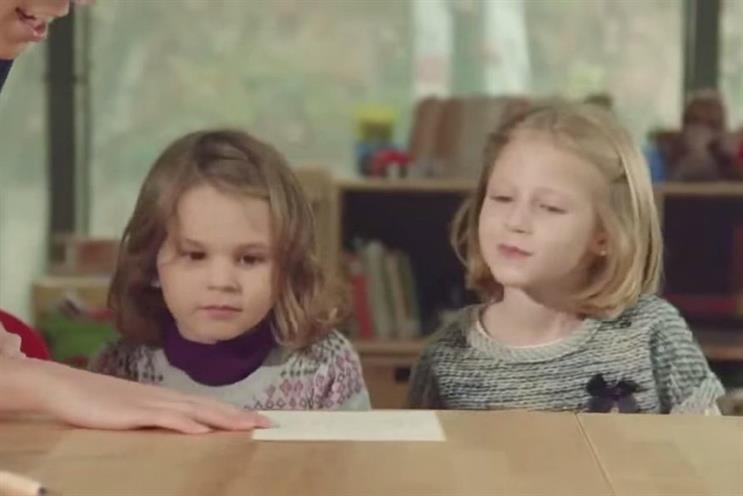 On your marks. This weekend signalled the start of the Christmas advertising onslaught, but there is far more to come.
It is rumoured that 26 people attended the off-line edit of this year's John Lewis Christmas ad, and emotions appear to be running high as we enter the fifth year of the Christmas blockbuster.
Given a public that's been so receptive to date, is this the year it all changes? It has to be. Here's why.
Last year, agencies turned up to the Christmas Ball all wearing the same frock. We spent close to £5 billion drenching the nation in dewy-eyed appeals to be chosen. One emotional atomic bomb after the other.
How'd that go? Sainsbury reported its first full year loss for ten years, Tesco is still smarting from an accounting scandal hitting record losses, Marks & Spencer continued clothing sales decline amid several top brass reshuffles, Boots held on – propped up through a recent US takeover but still planning to close 200 stores, and even silver bullet John Lewis Partnership saw profits under pressure as costs and competition increased.
The businesses that performed better in 2015 concentrated on tighter, more product focussed media and new multi-channel services. The brief for this year was never going to be the same as last.
Christmas is retail and retail has become Christmas. Business is now mortgaging an unhealthy chunk of its revenues on the days that run from here until 24 December. Sales targets will begin to double, even treble week on week.
As a direct reflection, creative agencies' biggest briefs are those for "the Christmas ad", for many the chance to eclipse an otherwise punishing year creatively.
Stakes are higher than ever, as is the imperative for change. Creative output will have to get in sync with a context that has significantly moved since 2010.
Having begun work as early as January of this year, the winners will have foreseen the ruptures emerging in the "cry and buy" model rather than bask in the feedback social media gave them last year.
Those who study their audiences forensically will agree one thing – there's only so much longer we can continue to play soft ballads to an increasingly disenfranchised audience.
In 2010, Ellie Goulding ushered in this era of Christmas advertising by singing vulnerably and nostalgically about love.
Five years on, her just released single is a break-up anthem, with a frenetic rhythm that's far less naive and more outwardly strident. There's a parallel with the public's trust in brands taking a sentimental emotional stance. Campaigns with a refreshingly selfish attitude and swag could carry an emotional register better placed to win.
There are two key developments that underpin this shift.
Firstly, almost unnoticed by the big emotional advertising plays last year, was Black Friday. This unwelcome US import has now firmly taken its place, creating a dual peak around which to build retail strategy and communications.
Black Friday has been appropriately named. While it promises an early flurry through the door, the true cost of this is a dark shadow on all important margins.
It also happens to be the day staff throw sickies wanting to avoid being stampeded. It started life as flat screens and will now just become a day when retailers "go into the black".
Black Friday in turn feeds an audience hungrier than ever for a deal, because they themselves feel somewhat cheated by an economy that still isn't growing. The public were unimpressed by what they got last year and the retailers were caught off guard.
Secondly, the growing unrest is worth paying attention to. People rioting through a cafe offering hipsters 120 different kinds of cereal, the move left in Corbyn's election, the UN announcing an end to poverty based on numbers that simply don't add up, a supposed rise in "preppers" – a millenarian austerity movement to stock up for a pending apocalypse.
Closer to the rump of who we directly appeal to, consumer research is showing the evaporating sense of self and purpose enjoyed by the middle class for the past 20 years.
There's a very surreal Ikea Christmas ad that ran in Spain last year. Mums and dads of nuclear families are reminded by the brand that the wish list from their children for more parental attention is far more important than any wish list from Santa.
It's riddled with emerging post-consumer contradictions that epitomise the current confused middle class identity.
Since 2010, the first generation who won't economically prosper better than their parents has emerged. The model of debt inducing university against shrinking professional and managerial work is broken.
There's serious downward mobility, with members of the young working class 20 times less likely to get a professional job the closer they were born to 1984.
High street and supermarket brands they've trusted for years are undergoing huge transformations, not to mention issues like VW's transmissions scandal – and there will be more like this – which means the first half of this decade's advertising is likely to look very different from the next half.
For now, we'll see another round of heart-warmers, but far less than last year and hopefully one or two surprises. As we go into January we can expect a very different set of briefs on our desks.
Jonathan Trimble is the chief executive of 18 Feet & Rising