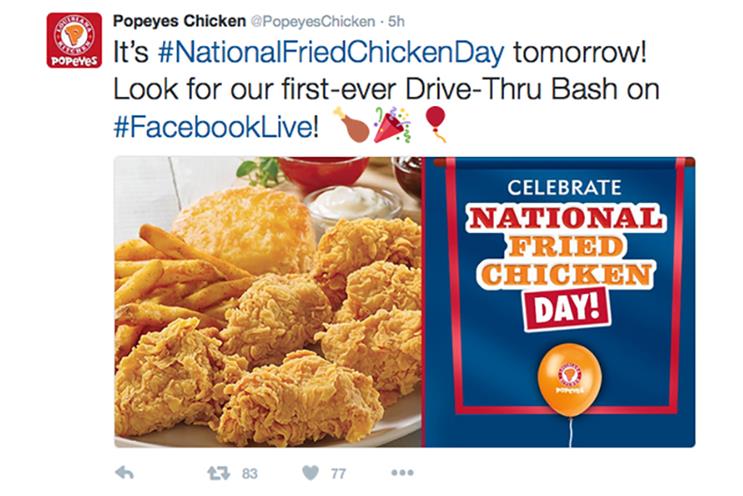 Yes, National Fried Chicken Day is a real and, for some, a tasty holiday.
While some restaurants and fast food chains are offering discounts or special menu items today, Popeyes is celebrating with a "Drive-Thru Bash" on Facebook Live.
Created with Austin, Texas-based agency GSD&M, the "Drive-Thru Bash" attempts to connect with fans of the fast-food chain in a new way, said Tom Hamling, group creative director at GSD&M. "We're hoping 'Drive-Thru' creates a more personal experience, where we can connect with fans in real-time," he said.
When Popeyes' more than 670,000 followers are notified of the live event on Wednesday, they will see a drive-thru constructed to look like one from a real restaurant. Actors and musicians will engage viewers from the 'Drive-Thru" with trivia games like "Wheel of Chicken" and charades. There will be two broadcasts, at 11:30 a.m. and 2:30 p.m. EST.
The fast food chain partnered with Postmates, an on-demand delivery app, to send participants free fried chicken. The social media team at GSD&M will select the winners based on correct answers and also at random. (Winners will be asked for the delivery address in a direct message on Facebook.)
Meals will be delivered within 60 minutes of the interaction, promises the agency. "We really want to take advantage of the real-time aspect of Facebook Live," said Hamling. "It doesn't get much more unique or personal than meeting fans where they already are — on social media — then showing up at their home or office with a warm, crunchy fried chicken lunch in hand."
This is not the first time Popeyes has created a promotion for #NationalFriedChickenDay. Last year, the fast food chain surprised travelers on Southwest flights with free chicken meals, Coca-Cola and swag.
Prepare for takeoff Popeyes style. @SouthwestAir never tasted this good. #NationalFriedChickenDay @CocaCola pic.twitter.com/LsdZeL3i0a

— Popeyes Chicken (@PopeyesChicken) July 6, 2015
Popeyes joins a growing list of brands producing creative ways to connect with consumers using the year-old live broadcasting feature. Last week, GE broadcast a video series filmed entirely by drones that focused on the technology behind the Olympics; BuzzFeed famously blew up a watermelon in April; Tastemade live-streamed an artist creating latte art in March; and Benefit Cosmetics uses live video to share weekly makeup advice.