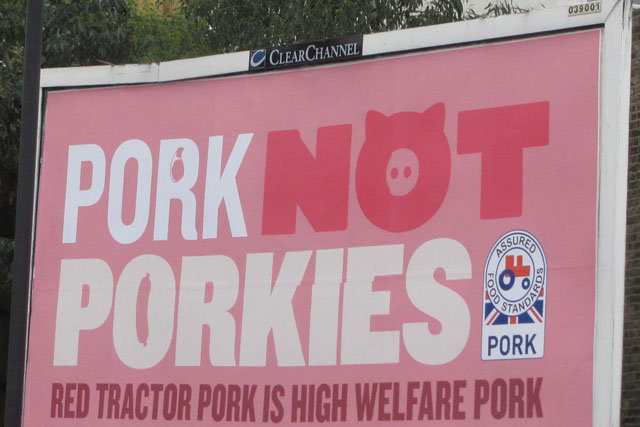 The campaign was created by Beattie McGuinness Bungay and included the claim in a poster execution, a banner ad and a national press ad.

The poster execution read: "Pork not porkies. Red Tractor pork is high welfare pork. Make the pork promise at Facebook.com/lovepork.uk."
The Red Tractor mark guarantees certain standards for the production, packing, storae and transport of food across different farming sectors to ensure food is safe and animals are well treated, according to Red Tractor Assurance.

In October farm animal welfare group Compassion in World Farming and 206 members of the public, the majority of whom appeared to be supporters of CIWF according to the Advertising Standards Authority (ASA), challenged whether the claim 'Red Tractor pork is high welfare pork' was misleading and could be substantiated.

The body behind the campaign, the Agriculture and Horticulture Development Board, told the ASA that Red Tractor pork was "high welfare compared to pork from other EU exporting countries", but that EU legislation prevented it from making a direct comparison with imported pork.

The problem for the ASA was that the claim implied there were no concerns about the welfare of pigs in the UK, while it understood "some aspects of pig farming in the UK, such as farrowing crates, tail-docking, tooth clipping and slatted floor accommodation, while better than in some EU exporting countries, were nonetheless still contentious issues".

In reaction to the ASA's ruling the chairman of BPEX, the division of the Agriculture and Horticulture Development Board that ran the campaign, attacked Compassion in World Farming, though BPEX said it accepted the ASA's opinion.

Stewart Houston said: "It is bizarre that at a time when the EU is trying hard to bring other Member States standards of pig welfare to something approaching the standards that we have had in the UK for over a decade, we have complaints being made by a UK organisation which claims to be focussed on improving animal husbandry across the world.

"To try and discredit or undermine the Red Tractor is to encourage more imported meat which is not produced to such exacting welfare standards."

However, Compassion in World Farming claimed the ruling was important for UK farmers who followed "higher welfare standards" as well as consumers.

Joyce D'Silva, director of public affairs for the group, said: "This is a a victory for consumers … Claims of high welfare are clearly a lucrative marketing tool but in this case they were overblown and misleading to the consumer. The 'pork not porkies' claim on the advert makes this a particularly embarrassing own-goal for Red Tractor pork.

"This is also a victory for those pig farmers in the UK who adhere to higher welfare standards like the Soil Association's organic standard or the RSPCA's Freedom Food."