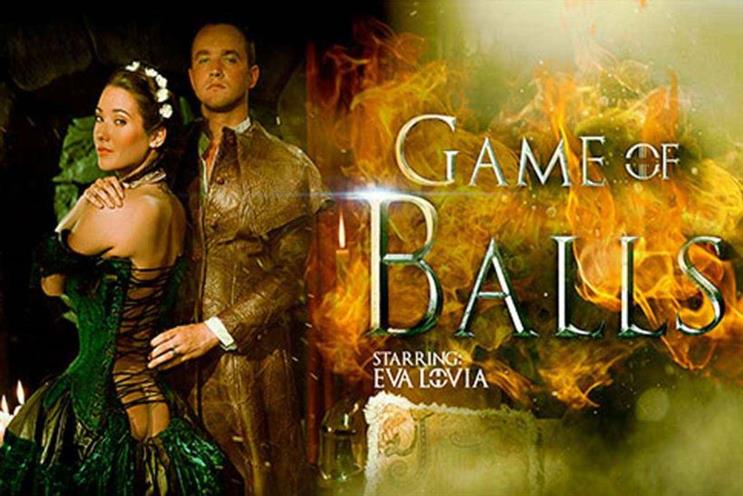 SYDNEY — To get Australian men checking for testicular cancer, M&C Saatchi hid a public health message (and demonstration) in a porn flick entitled "Game of Balls," on behalf of The Blue Ball Foundation.
For world testicular cancer month in April, The Blue Ball Foundation engaged M&C Saatchi to get young Australian men, aged 20 to 30, to start checking for the early signs of testicular cancer.
The agency worked with leading LA adult film studio Digital Playground to film an erotic parody designed to tie in with the launch of season five of "Game of Thrones," Australia's highest-rated pay-TV show. The porn video launched on April12 — the same day as the GoT season five premier — on Digital Playground, one of the most-visited adult video-sharing sites among Australian men.
In "Game of Balls," star Eva Lovia stops mid-action (as it were) and speaks directly to the viewer, demonstrating how to check for testicular cancer, using her co-star as a prop. She then points to an onscreen URL, playwithyourself.org where men can learn more, get help and spread the word.
"Play with yourself" hit the internet in stealth mode — with no PR. "Game of Balls" pulled in more than 1 million views, and when the media discovered the idea, awareness spread even further. Since the campaign's launch more than 200,000 people have visited the site.
M&C Saatchi isn't the only agency to use porn for a testicular PSA. McCann Lima in April released "Save the Balls," a spot for the PornHub Network in which porn star Charlette Stokely instructs men how to check themselves for symptoms of cancer.
Campaign Credits
Client: The Blue Ball Foundation
Agency: M&C Saatchi
Ben Welsh: M&C Saatchi ECD
Ant Melder: M&C Saatchi CD
Josh Bryer: M&C Saatchi Writer
David Jackson: M&C Saatchi Art Director
Annalise Brown: Bang PR Managing Director
Peta Frost: Bang PR Account Manager
Zoe Finlayson: Bang PR Account Executive
Matt Porter: M&C Saatchi PR Manager
Jaimes Leggett: M&C Saatchi CEO
Justin Graham: M&C Saatchi CSO
Jeanette Li: Digital Playground Marketing & PR Coordinator
Jakodema: Digital Playground Director
Jamie Morgan: The Blue Ball Foundation Founder
This article first appeared on campaignasia.com.