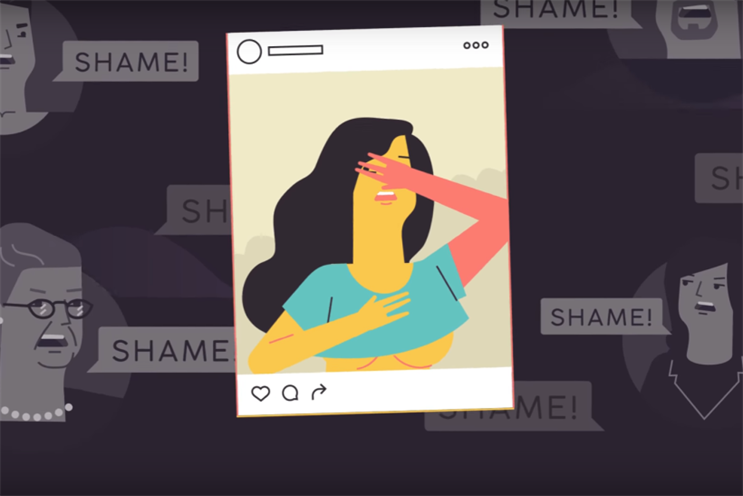 Social media networks have been wrestling with how best to deal with questionable content uploaded by their users. While it's important to block violent imagery or hate speech, often the content getting flagged is just naughty pics of private parts—the machinations of titillated exhibitionists, not antisocial extremists.
Both automated filters and offended viewers flag the images for removal, and repeat offenders can end up having their entire accounts banned. But Pornhub has come to the rescue. On Tuesday, the adult streaming video site and Madrid agency Officer & Gentleman released TrickPics, a mobile app that lets users add animated stickers to nude selfies, turning blockable content into eyebrow-raising but SFW images.
"We understand that stringent policies on most popular social platforms prohibit users from expressing themselves creatively," Corey Price, VP, Pornhub, told Campaign US. "We figured this was a fun way for us to allow them to be as creative as possible and turn NSFW content into SFW content that can be shared without consequence."
The app recognizes private parts—breasts, penises and vaginas—and offers 15 different stickers to cover them up. A dick pic can instead become an opportunity to show off a lightsaber, with the "Hand Solo" filter, or demonstrate its charm with "Trouser Snake." Political junkies will appreciate "Big Wig," which places a familiar mop of blond hair atop a pixelated member.
Women can cover nipples with options like "Mile Highs" and "Knock Knockers" (airplane propellers and door knockers) and can censor nether regions with a seashell or the Eye of Sauron ("Instaclam" and "My Precious.")
The animated stickers were "the brainchild" of Officer & Gentleman, Price said. The agency has worked with Pornhub previously to introduce and explain several tech applications, like the BangFit and Wankband wearables, as well as Pornhub's last two holiday campaigns. O&G also created a safe-for-work animated promotional video for the app.
"We're going to be releasing new image filters in the near future with future releases of the app and already have some in the works," Price promised. If the app is popular, he added, they'll consider releasing stickers for videos, too. And privacy fetishists needn't worry about Pornhub holding onto their pics. User-created images are saved to their mobile device, not the cloud or Pornhub servers.
TrickPics was developed by EnjoyIt360, a Barcelona-based producer of immersive adult content that specializes in virtual reality, 3D and 360-degree video. It's available on the iOS App Store and the Google Play Store. Across-the-board bans on pornographic content on those marketplaces prevent the official Pornhub app from appearing, but TrickPics skirts the issue.
That adds another notch in the SFW Pornhub bedpost. The company has made repeated efforts to break into the mainstream, both to increase its user base—which already stands at 75 million unique visitors per year—and to increase the visibility and acceptability of pornography.