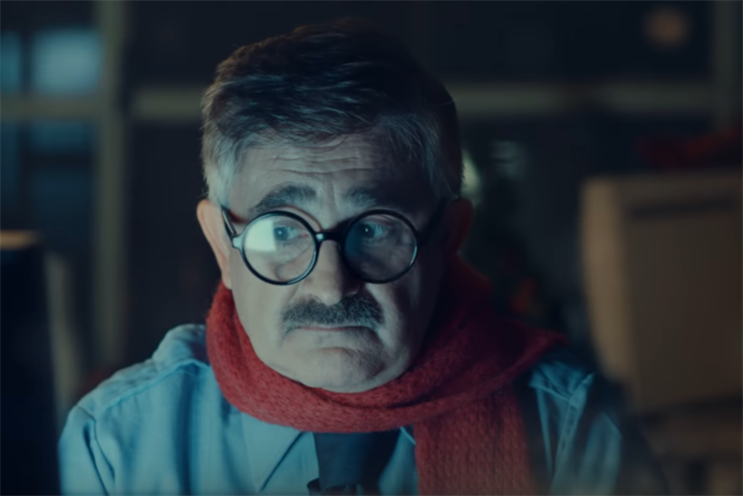 Recognizing a familiar face in a Pornhub video is usually an unfortunate event. But astute viewers will notice some passable doppelgangers in the porn streaming site's new holiday spot, "tributes" to some of the most popular characters from last year's Christmas ads.
There's an old man in suspenders with a shock of white, wild hair—an homage to John Lewis' Man on the Moon. There's a mustachioed security guard who works the night shift in a mannequin factory—the spitting image of the animated Justino created for the Spanish lottery. A mischievous gray cat makes a cameo as well.
Pornhub—which boasts 60 million users per day—released its second annual Christmas ad today, helmed by Officer & Gentleman, the Madrid-based agency responsible for last year's viral hit.
"We like to give a little wink to other people in the industry," said Alex Katz, co-creative director and co-founder of O&G. The agency enjoyed thinking up "a better ending for some of those spots. If I'm that old man, I probably would prefer a subscription than a telescope."
"Also, giving him a telescope is a pretty perverted gift so he can spy on people, you know?" added Javier Iñiguez de Onzoño, the other co-creative director and co-founder of O&G.
It's rare that a creative team sets out to make a typical holiday ad. But when the client is Pornhub, sometimes it's best to avoid sticking out. "We wanted to make it look like a TV spot that Coca-Cola or John Lewis—a classic brand—would put out," said Iñiguez de Onzoño. "A classic, cliché Christmas movie."
"There's always that classic story of people getting stuck alone on Christmas. What are they doing and what's the Christmas miracle? How does Santa come in and save the day?" Katz said. "We thought, being realistic, there are only certain things you can do that will truly make you happy, and one of those things might be going on Pornhub Premium."
Last year's holiday spot, which featured a touching gift from a loving grandson to his lonely grandfather, has racked up nearly 6.5 million hits, so expectations are high for the follow-up. But Pornhub and O&G didn't just want to repeat last year's success.
The new brief moved away from gift cards in favor of self-gifted subscriptions. The new spot also needed to appeal to a larger audience. "Pornhub wanted it to be more universal," Iñiguez de Onzoño said. Rather than focusing on a single, white family and a lonely grandfather, this spot features two women, as well as people of color.
O&G had a larger budget to work with than last year's shoestring, so they were able to film shots outdoors and on location. They commissioned the music for the spot, a rendition of "Silent Night" focusing almost exclusively on the "lonely" night. "Originally we wanted to use the Beatles' 'All the Lonely People' sung by a choir of kids," Katz said. "But we wouldn't have been able to make this spot or probably any more advertising for the rest of the year."
While the now-annual holiday spot has become Pornhub's most visible work of the year, O&G has ramped up production of other work for the brand. This year, they created spots timed with the Olympics, as well as for the BangFit sexercise app, the kind of tech application the agency has become known for—like the pleasure-powered Wankband.
Because of the success of these spots, Pornhub is investing more in work from O&G. Over the next six months, the agency will be releasing about a spot per month, timed with appropriate holidays like Valentine's Day, April Fool's Day and Spring Break, as well as less-appropriate holidays like Mother's Day.
"We haven't gone away from the strategy we set up a year and a half ago," Iñiguez de Onzoño said. A continual stream of humorous, shareable, safe-for-work ads helps normalize the brand, improves visibility and skirts around gatekeepers like Facebook that are shy about sex-themed posts.
"What we've been building on and what Pornhub's been trying to build on is, if you think of a ketchup brand, only one comes to mind," Katz said. "You say Heinz, right? If you have to think of an internet porn brand, there should be only one that you think of, because it's most recognizable and the most approachable."