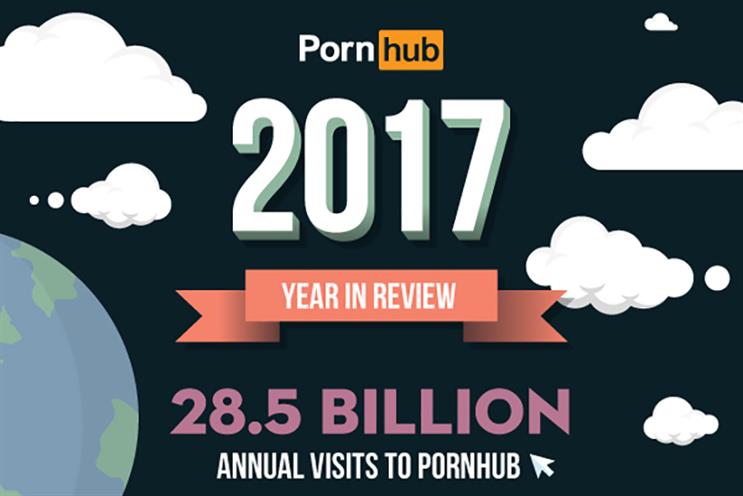 Surviving 2017 required serious stress relief, and millions of people across the world looked for a very specific kind.
Last year, visitors to Pornhub streamed 3,732 petabytes of data, enough to fill the storage of every iPhone in the world.
That's just one of several dozen major takeaways the web's biggest free porn site gleaned from its 2017 user data. It's the fifth year in a row they've posted a massive year-end analysis on their Insights blog, which they update throughout the year.
Women's needs and experiences dominated political discussions in 2017, and it turned out they dominated Pornhub's searches, too. Although overall visits to the site by women remained at 26 percent, the same as last year, the top trending search term was "porn for women," which increased by over 1,400 percent.
Visitors can expect the site to adapt to that feedback in the coming year. "We're very pleased to see such an increase," said Pornhub VP Corey Price. "As the number of women enjoying our content increases, it's important to cultivate content that appeals to their interests."
Overall, the year represented continued, large-scale growth for the site. Users and content partners uploaded over 4 million videos, and users submitted over 120 million votes on videos—1 million more votes than were cast in the 2016 presidential election.
One-off events like an election (for which Pornhub published specific data last year) have a big impact on the site's traffic. This year, the solar eclipse that traversed a diagonal path across the U.S. The closer states were to the totality, the bigger a dropoff in site traffic during the eclipse, suggesting that natural wonders are still able to captivate despite stiff and stimulating competition.
Unsurprisingly, pop culture continued to influence porn preferences, with the top five searches relating to blockbuster films all breaking a million searches each. "Suicide Squad" may have been a critical flop, but its leading woman Harley Quinn was the most-searched pop culture character, raking in over 8.3 million queries. Video games didn't inspire quite the dedication of comics characters, but the top three gaming searches were all for "Overwatch" characters, with a combined total of over 9.3 million queries.
Pop culture isn't just media, as Pornhub learned this year: it is also, apparently, gadgets, specifically fidget spinners. The fad fascination inspired some enterprising producers to get creative with the toy. "It's unimaginable why people in our audience are looking for videos that include [it]," Price said. Nonetheless, it was the third-biggest trending search term of the year ("Rick and Morty" was number two).
In the 10 years since the site opened, mobile viewing has increased from just 1 percent of Pornhub visits to over 75 percent. And in the last year, VR porn moved up 14 spots in search terms. That, said Price, is where Pornhub is looking next. "In 2018, we're expecting a huge year for technology-related searches. We're excited to see how things like AI and smart speakers are tied into pop culture, and in turn into searches on our site."