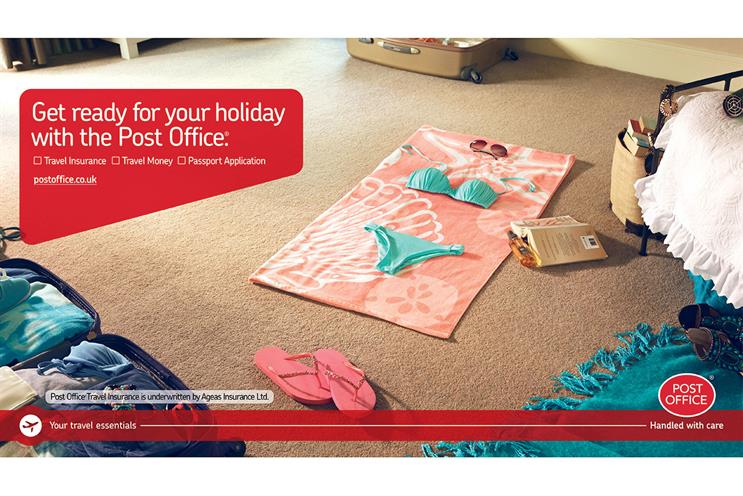 It is part of the Post Office's "handled with care" brand message, which included a TV campaign at the end of last year, created by Dare, and a mortgages campaign covering outdoor, print and online.
The new three-month campaign – which launches on Monday 17 June in print, outdoor, online and in Post Office branches – uses the tagline "Get ready for your holiday with the Post Office".
Ads will appear in publications including the Telegraph Magazine, Sunday Times magazine, Mail on Sunday magazine and Guardian Weekend.
The ads have been developed by Dare and planned by Mindshare and focus on the Post Office's role in helping customers prepare for their holiday with services including travel money, insurance and passport "check & send".
The account director is Robin Bond, and art director Lee Smith, with copywriters Colin Smith and Angus Vine, and photographer Jo Metson Scott.
Stewart Fox-Mills, head of marketing at the Post Office, said: "The modern Post Office is about much more than stamps and envelopes and is credible in other markets.
"This campaign builds on our strong reputation as a provider of travel money and sets out the range of useful and award-winning travel services you'll find at Post Office. We are changing and so are our customers."
Dare won the Post Office account in January 2011, following a pitch against Draftfcb and Leo Burnett. The previous incumbent, Mother, resigned midway through the pitch process, citing "internal conflict" with the Post Office.
Meanwhile, Jonathan Pangu, the group business director at Dare, said: "We think the Post Office will get more than its fair share of attention this year, we're all about the excitement and anticipation of the summer holiday, in a way that's relevant to Post Office's role."
The Post Office is also investing in digital media and has partnered with MSN Travel to create bespoke online content throughout the summer.