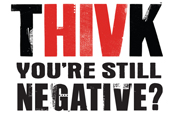 The campaign by Felton, already launched to sexual health workers, is initially targeted at the UK gay community, challenging them to think about their HIV status.

It follows recent research, which found that up to 10,000 gay men are unaware they are carrying the disease.

Felton's MD, Roger Felton, said: "Our objective was to develop a distinctive campaign with legs.

"A concept that we could use to deliver the facts whether via ads, outreach gimmicks, condom packs, banners and t-shirts."

Marc Thompson, the deputy head of health promotion at the Terrence Higgins Trust, said: "We are confident that the iconic impact and visual simplicity of Felton's campaign will encourage men to think about the risk and, if necessary, consider getting tested so they know for sure. "