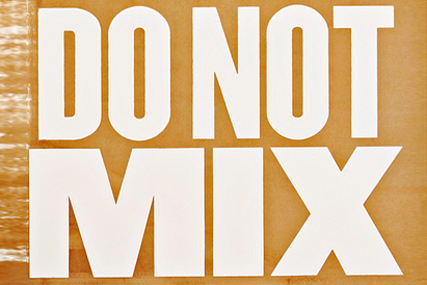 The agency plans to sell the 200 posters online and donate the profits to the Coalition to Restore Coastal Louisiana (CRCL), a body set up to combat the damage caused by BP's oil slick.
Happiness Brussels sent two of its creatives to the beaches to collect crude oil, which was used to produce the 76.2cm x 50.8cm pieces. Each poster was screen-printed by hand.
The posters feature large, bold typography. At the top are the words 'Oil & Water' printed in a golden oil colour while below a stylised waterline, the oil-based paint is used to shape the words 'Do Not Mix' out of the neutral background of the poster.
The agency has produced a two-minute video which can be viewed on the website, and which is being seeded internationally.
Grégory Titeca, Happiness Brussels' creative director and head of R&D, said: "Our aim is for 'Oil & Water Do Not Mix' to act as an iconic reminder of our responsibilities to look after this planet and to highlight the massive ongoing clean-up and conservation tasks that lie ahead for the whole Gulf of Mexico region by CRCL and other great people like them …
"This is not about beating up BP, this is about how we learn and move forward."
Burrill said: "'Oil & Water Do Not Mix' is a basic and straightforward phrase, but because the posters are printed in oil from the spill it has strong resonance and importance.
"There is a perception among many people that the oil in the Gulf of Mexico is just going to somehow disappear and nothing could be further from the truth. For people in the Gulf, including New Orleans and the whole of Louisiana, the effects of this disaster will be around for a long time to come.
"We believe that great design can help change the world for the better and firmly hope that 'Oil & Water Do Not Mix' will be a catalyst for such change."