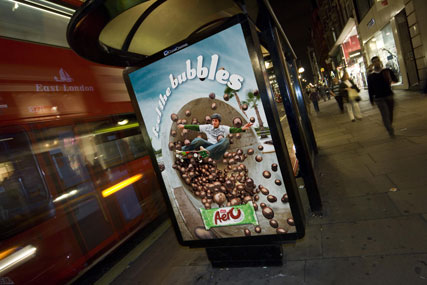 The posters use a technique called lenticular printing, which allows people walking past to see a second of "animation" or special effects on static sites.

The technology employs a lens on top of the poster that allows people to see only a fraction of what is on the panel. When someone moves past the panel, different parts of the creative are seen in sequence, in the style of a flick book.

The campaign will run across 1,000 six-sheets and was designed to work alongside Aero's "skate park" TV campaign. The outdoor activity was brought about by a partnership between creative agency JWT, media agency Mindshare, Nestlé's out-of-home specialist Source OOH and Hive, the lenticular manufacturers.

Hyperspace said the campaign is the largest lenticular printing campaign run in the UK and featured the most complicated creative to date.

Richard Simkins, senior project manager at Hyperspace, said its research had shown that using lenticular panels in out-of-home was a "great way of differentiating your brand" with the consumer.

Simkins said the campaign demonstrated how great work could be achieved when "creative, media and specialist agencies" worked with each other from the start of a project.