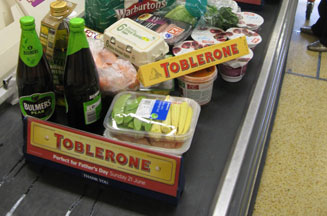 With research showing that at least 70% of brand choices are made in store, food and drink marketers are, not surprisingly, keen to convert shoppers into buyers at the point of purchase (POP). Nowhere is this more evident than in supermarkets, where consumers' focus on value has driven the trend for retailers to push their own-label products.
According to trade body the Grocery Manufacturers Association, POP, or shopper marketing, is expanding faster than internet advertising, and is on track for an annual growth rate of 21% by 2010. Last month, Procter & Gamble's global brand-building officer, Marc Pritchard, told the firm's marketing partners at an agency summit in Cincinnati that 'if [a marketing idea] doesn't work at the store, it's a miss'.
Meanwhile, drinks company Diageo has been advertising for two dedicated shopper-marketing manager roles at its HQ in West London. It promises candidates 'a new role in a new type of marketing for Diageo through developing game-changing, shopper-facing campaigns, driving the category and our brands'.
There is a problem facing FMCG brands in the current economic environment, however. Although consumer confidence in supermarkets appears to be returning, both shoppers and retailers have learned to adapt their in-store behaviour and neither are likely to be easily swayed.
'Brands need to change their POP strategies, as there's a new game in town,' says David Roth, head of global retail across communications services group WPP.
'Yes, consumers have returned to the stores, but they are still conscious that they don't have expanding wallets, so they have developed coping mechanisms.'
One of these 'coping mechanisms' is a tendency to write shopping lists before heading to the store. However, this trend is not necessarily all bad news for marketers. '[The shopping lists] may not be absolutely brand specific, so there is still the opportunity to lever their choices within the store,' adds Roth.
This view is backed by the latest promotions and customer loyalty report, published in September by grocery sector analyst IGD, which shows that 37% of British shoppers buy items for the first time as a result of in-store promotions. 'We are increasingly seeing shoppers willing to experiment with how they shop, where they shop and what they buy,' says Michael Freedman, senior consumer analyst at IGD. 'With this more open mindset, they are more likely to be looking for offers, and to swap and change within a range.'
However, this does not mean that consumers are in favour of finding a bargain at any price. 'Shoppers are becoming more conscious of food waste and environmental issues. Our research shows that a quarter of shoppers want to see an end to multi-buys on fresh food, and almost three in 10 (28%) are concerned about food waste when it comes to promotions,' he adds.
Focus on value
Retailers have responded accordingly, seeking to underline brand promises such as Asda's 'Saving you money every day' and Sainsbury's 'Feed your family for a fiver' by shifting away from BOGOFs and multi-buy offers, to clearer POP messaging and promotions based on price.
'The supermarkets were using promotions to get share by taking consumers out of the market with multiple purchases,' says Joel Hopwood, co-founder of retail media planning agency, Capture, which works with Sainsbury's and its suppliers. 'Now it's less about the unit cost of a loaf of bread, for example, and more about lowering the price of the overall shop at the till.'
The problem for brands looking to maximise their marketing in-store is that space and opportunities are limited. Moreover, the supermarkets own the context in which any activities or messaging will take place.
'Our challenge is to find the right creative solution that links the brand's objective with Sainsbury's in-store activity, so that it benefits the customer shopping experience,' says Avishai Moor, new business manager at Sainsbury's, which is running an integrated campaign for Nescafe across its POP, online and publications. He emphasises that when planning a campaign for an FMCG brand, his team always tries to view products, deals and gift ideas featured in store from a shopper's perspective.
For example, in June, the supermarket partnered Toblerone for a light-hearted Father's Day campaign. This involved integrating an on-pack message with checkout dividers designed to look like the chocolate brand's distinctive packaging.
The activity was combined with checkout display ends, to maximise the conversion to purchase. The result was a 95% increase in sales of 400g Toblerone bars compared with a similar Father's Day promotion the previous year.
'The branded till divider activity was the chosen in-store media tool that we felt would deliver strong cut-through for the brand,' says Toblerone senior brand manager Emma Dixon. 'It made the brand visible to every consumer visiting the store, reminding them to not forget about Father's Day and communicating that Toblerone was the perfect gift for this occasion.'
Aside from generating revenue for Sainsbury's, Moor says the benefits of such activities include providing additional value and support to suppliers.
Rebuilding loyalty
However, there is an equally strong case for food and drink brands to reappraise how their POP activities support and help the supermarkets.
'Brands should work with the supermarkets to transform categories into something intriguing and display brands in enticing, exciting and different ways, to provide reasons to shop with a particular retailer,' says Orit Peleg, shopper marketing planning director at brand activation agency OgilvyAction.
Simon Hathaway, is chief executive for EMEA at Publicis-owned shopper marketing agency Saatchi & Saatchi X, which works with companies including Procter & Gamble, Cadbury and Starbucks. He goes even further than Peleg, saying: 'Disruption is dead, the future will be about attraction.'
He is dismissive of much of the current shelf-ready packaging in supermarkets. 'Retailers don't want stuff littering the store unless is has value,' he adds. 'Finding smart solutions that fix category problems or help the store maximise space and improve operational efficiency will win.'
As shoppers become more brand promiscuous, there is an opportunity to help build the customer loyalty the supermarkets crave, from the shelf out.
Following customers online: Anchor butter and Tesco.com
As more consumers shop for groceries online, FMCG brands and retailers face the challenge of devising POP strategies for an environment where control lies in the hands of the user.
'This means brands have to interrupt activity and work harder to engage customers by thinking about what the medium is good at and reacting to what people do,' says Piggy Lines, executive creative director of Carlson Marketing.
His firm recently developed an animated application for Anchor on Tesco.com's grocery website, bringing the butter brand's 'Great Escape' TV ad to life by making cartoon cows appear to escape through a hole as users scroll down the page. 'It also linked to an on-pack promotion to win a great escape and reinforced all Anchor's free-range brand cues, so was relevant, useful and entertaining,' adds Lines.
Brands' efforts to make online shopping more emotionally engaging match the interests of the supermarkets. Most offer quick-shop options to fast-track customers through regular purchases, while offering 'inspirational' shopping ideas. 'We suggest products customers might like to buy based on what they've bought before, or by showing them products that go together,' says Ocado head of retail, Jon Rudoe.
He also points out that Ocado is constantly experimenting with fresh ideas, 'with the watchword that [they] have to be relevant and mean something to the customer'.
This involves helping suppliers to tell their stories, flesh out brand messages and provide a richness of information that is impossible with bricks-and-mortar POP marketing. Rudoe is also optimistic about the potential for online video to inform customers about products and their provenance.
However, Jon Davie, managing director of digital content agency Zone, sounds a note of caution. 'You have to be careful about creating a consistent brand experience and not distracting or annoying a customer out of clicking away and abandoning their purchase altogether,' he says.