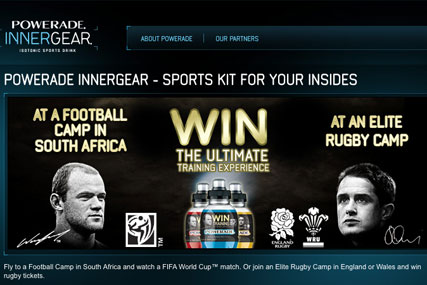 The on-pack promotion for the Coca-Cola sports drink will run until the end of February. It enables consumers to enter a daily draw to win one of more than 100 training sessions, as well as tickets to either a FIFA World Cup match or a rugby international.
Consumers have to text the code on the label or go to Poweradegb.com to see if they have won. The packs feature images of Wayne Rooney and Shane Williams and the campaign has been created by Iris.
To support the campaign throughout the RBS 6 Nations and as part of the build-up to the FIFA World Cup later this year, for which Powerade is an official sponsor, Coca-Cola will also be running TV, press and digital advertising.
Cathryn Sleight, marketing director for Coca-Cola Great Britain (CCGB) said: "2010 is an exciting year for UK sport and Powerade is proud to be a part of this.
"As the official sports drink of the FIFA World Cup, Rugby Football Union, Welsh Rugby Union, Coca-Cola Football League and Team GB, we're committed to reaching out to wider sporting communities and demonstrating Powerade as an essential part of a sportman's kit.
She added: "Through the 'Ultimate Training Experience' campaign, CCGB is continuing to bring consumers' sporting dreams to life, placing the brand at the heart of the sporting arena, both on and off the pitch."