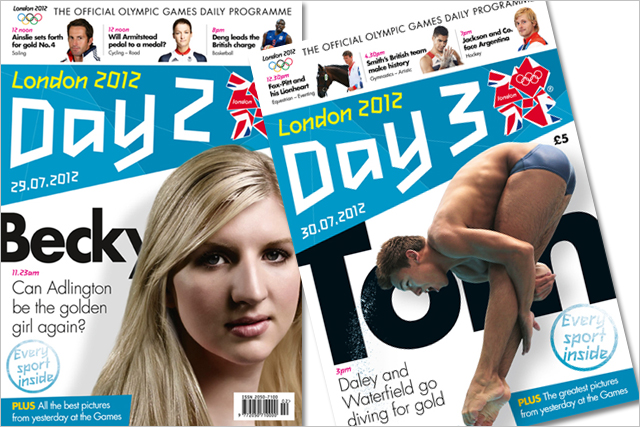 The other double-award winners at the big event of Professional Publishers' Association's calendar were Future Publishing, Hearst Magazines UK and Time Out, which won International Consumer Media Brand of the Year and Front Cover of the Year.
Time Out's cover victory, for its "Take Me, I'm Yours" cover followed a closely fought online poll in which more than 15,000 public votes were cast over a six-week period.
Haymarket Media Group's double included Customer Magazine of the Year and Publisher/Manager of the Year. It was also rewarded for the efforts of Haymarket Network's 27 daily programmes for the London 2012 Olympic and Paralympic Games.
Future won both the Digital Innovation of the Year (Consumer Media) and Consumer Media Editor of the Year, while Hearst collected the Consumer Media Designer of the Year and Specialist Consumer Media Magazine of the Year gongs.
Condé Nast's second award was for the Consumer Media Writer of the Year which went to Ed Caesar of GQ.
Meanwhile, Sylvia Auton, IPC Media's outgoing chief executive, became the first ever inductee into the PPA Hall of Fame, which recognises an individual's outstanding contribution to the publishing industry.
IPC Media's NME also won the inaugural PPA Chairman's Award in recognition of its "consistent excellence and reinvention since its launch in 1952".
PPA Awards: winners in full
PPA Hall Of Fame
Sylvia Auton

Designer of the Year (Business Media)
Ewan Buck, Economia, Progressive Customer Publishing
Designer of the Year (Consumer Media)
Tanita Montgomery, Company, Hearst Magazines UK

Writer of the Year (Business Media)
James Halliwell, The Grocer, William Reed Business Media

Writer of the Year (Consumer Media)
Ed Caesar, GQ, Condé Nast

Columnist of the Year (Business Media)
Mark Ritson, Marketing Week, Centaur Media

Columnist of the Year (Consumer Media)
Lucy Mangan, Stylist, Shortlist Media
Publisher / Manager of the Year (Business & Consumer Media)
Julia Saunders, Olympics & Paralympics Daily Programmes,
Haymarket Network

Publishing Innovator of the Year (Annual Turnover Under £10 million)
Marc Hartog, British Journal Of Photography, Apptitude Media

Digital Innovation of the Year (Business Media)
Tesconnect.Com, TSL Education

Digital Innovation of the Year (Consumer Media)
Digital Camera World Presents..., Photography Week, Future Publishing

Event of the Year (Business Media)
Farmers Apprentice, Farmers Weekly, Reed Business Information

Event of the Year (Consumer Media)
Your Horse Live, Bauer Media

PPA Chairman's Award
NME, IPC Media

Editor of the Year (Business Media)
Alastair Mclellan, Health Service Journal, Emap

Editor of the Year (Consumer Media)
Jane Toft, Mollie Makes, Future Publishing

Front Cover of the Year
Take Me, I'm Yours, Time Out

Customer Magazine of the Year
Olympics And Paralympics Daily Programmes, Haymarket Network

Specialist Consumer Magazine of the Year
Elle Decoration, Hearst Magazines UK

Business Magazine of the Year
The Drum/Thedrum.Com, Carnyx Group

Consumer Magazine of the Year
Radio Times, Immediate Media Co

International Consumer Media Brand of the Year
Time Out, Time Out

Business Media Brand of the Year
Procurement Leaders, Sigaria

Consumer Media Brand of the Year
Wired, Condé Nast