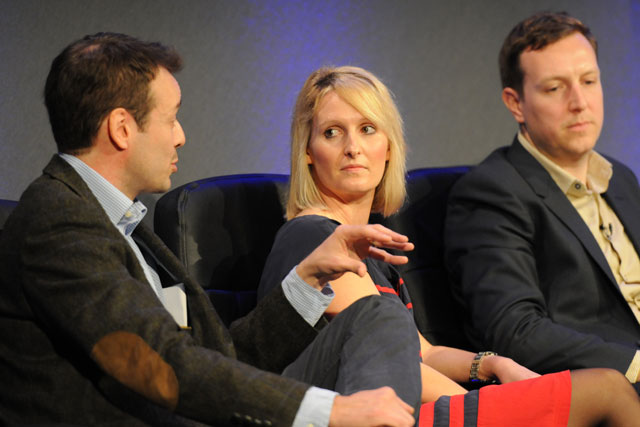 One of the most interesting and reassuring things about the 2012 Professional Publishers Association conference last week was that, despite the inevitable need to focus on digital technologies, publishers do not seem to have lost sight of the most important element of magazine publishing: content.
Naturally, multiplatform brand management was high on the agenda, and the tablet was discussed more pervasively than last year. But there were signs that the industry is not getting too carried away with the digital tide that threatened to cast a long shadow over the whole event.
Themes covered included a look at brands and their importance to multiplatform publishers, the benefits of certain platforms to specific audiences, possible changes to publishing regulations, digital piracy and the relationship between commercial and content.
Ella Dolphin, the group publishing director of Hearst Magazines, and Luke Bozeat, a managing partner at MediaCom, were among a panel debating what advertisers want and how consumer magazine brands can meet these needs.
Dolphin told the conference that new digital platforms have given publishers more access to feedback from their readers. She said: "There are a lot of plus sides to these developments. We know the consumer better now. We recently relaunched a magazine and we had 5,000 Tweets. So we have all this feedback coming in all the time."
Lorraine Candy, the editor-in-chief of Elle, added that another way forward is to create exclusive content for social media to whet the appetite of fans of the brand, many of whom follow the editors of their favourite magazines on Twitter. She gave an example of a June cover shoot with the Twilight actress Kristen Stewart, which was being shot well in advance of the publication date. Elle Tweeted live from the shoot, bucking the trend for keeping a cover star secret until the issue goes on sale. Candy said: "We had a hashtag and we were hopeful it would trend on Twitter ... It was the world's number-one trending topic during the day."
1. When it comes to the finer points of publishing, Dolphin was in no doubt as to what matters most: "We produce content. It goes across print and our website but, to be honest, we don't mind which platforms it goes across because we're content creators - that's our skill."
When questioned about the continued use of print in advertising, she insisted that it still has a role to play: "All of the research we have shows that magazines are seen as a portal for brands." Bozeat agreed: "The fundamentals are still the same. It's really important that we have brilliant ads, placed brilliantly in brilliant magazines."
2. Dolphin was relaxed when asked about the possible "cannibalisation" of print: "If this ever was a concern, we've just got to go with it now. Digital is a new opportunity and words like 'cannibalisation' are redundant."
3. Using the success of The Economist as an example, Andrew Rashbass, its group chief executive, highlighted some of the research that has been carried out concerning its website: "What we found during our research was that the 'lean back', immersive experience of print reading was not being replaced by the web. The web was much more 'lean forward', much more interactive and about sharing and 'snacking'. As a result, we began to turn economist.com into the place where readers come to engage with each other rather than just read our journalism. 'Lean forward' web experience guides everything that we now do online."
4. Mark Wood, the chief executive of Future Publishing, told the audience that Future's long-term goals were digital. He explained that the rise in digital platforms has provided publishers with a means of reaching global audiences instantly. Wood praised Apple's magazine app store, Newsstand, for influencing the progression of Future's digital editions and its global reach. However, he asked: "As print markets decline and advertising migrates, how do you transition a print business to become a digital brand business before the changes in the market blow your business model apart?"
5. Kevin Hand, the chairman of the PPA, summed up the general atmosphere of the event: "We are united by our common DNA as publishers, to provide content of the highest possible quality, whatever the platform."
WHAT IT MEANS FOR ...
PUBLISHERS
- The cannibalisation of print is not a debate any more. It's a fact. And publishers realise that tablets represent an opportunity rather than a threat to their business.- The opportunity, at this early stage, is mainly being exploited by high-end magazines such as The Week and The Economist. Generally, the readers of these magazines are those who can afford devices such as iPads and Android tablets.- H Bauer, which produces mass-market magazines such as Take A Break, TV Choice and Eat In, does not have any of its brands on tablets - suggesting that, at present, its audience is not seeking this content on the tablet platform.
- For Dolphin, the days of thinking exclusively about print are over. Publishers now have to consider how content translates across digital platforms and which apps match which brands.
ADVERTISERS
- James Papworth, the marketing director of the PPA, believes the industry is at a "very exciting point in its history" - although it remains to be seen if this excitement can be turned into profit.
- Clients and media agencies alike are in the early stages of honing their skills and knowledge with respect to tablet targeting. Given this backdrop, advertisers are having to take a gamble. The biggest risk for them is missing out on the latest growth opportunity.
- Advertisers know that tablet owners are generally more prepared to pay for quality digital content than those surfing the web, so there are more opportunities for advertisers on tablets. Rashbass attributed this to two factors: tablet owners' higher disposable income and the more time-generous, "lean back" effect of the tablet.
- Kristian Dean, Audi UK's national communications manager, said: "From the client perspective, I think we're open to taking new risks, if something feels right for the brand."