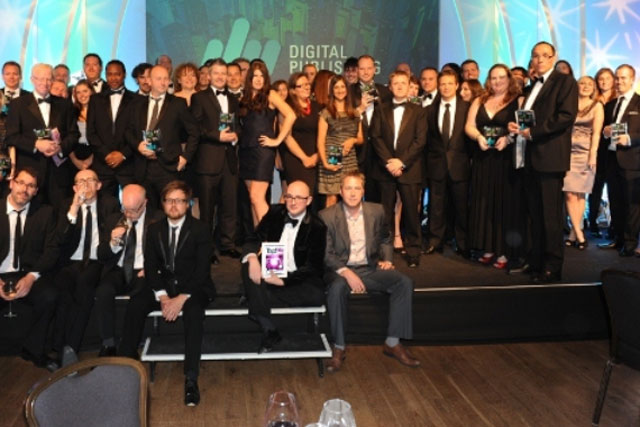 The ceremony at The Brewery was attended by around 350 media executives and presented by Colin Murray.
Future Publishing picked up Digital Publisher of the Year (Consumer Media) for "continuing to impress" with its in-house video production capability, use of video advertising and interactive tablet editions.
Judges commended the Dennis interactive ad sales team for its "very clear strategy and execution" which resulted in "impressive year-on-year growth, demonstrating the commercial understanding and effectiveness of the team".
Brand Republic Group's ad sales team was praised for its "fantastic success" in a "fiercely competitive marketplace". The judges were "hugely impressed by the iconic new advertisers the team had recruited".
Dennis Publishing's current affairs round-up magazine The Week won Digital Edition of the Year for its "elegant, focused digital edition that has delivered a strong return on investment".
Haymarket Media Group also picked up App of the Year for the "fantastically well-executed" FourFourTwo Stats Zone from football magazine FourFourTwo, and Directory of the Year (Business Media) for the Mims app.
What Car, which also part of Haymarket Media Group, won both Digital Data Service of the Year and Product Development of the Year (Consumer Media) for True MPG, a service that calculates how many miles cars will actually do to the gallon.
The full list of winners
Advertising Sales Team of the Year (Business)
Brand Republic Group, Haymarket Media Group

Advertising Sales Team of the Year (Consumer)
Dennis Interactive Ad Sales Team, Dennis Publishing

App of the Year
FourFourTwo Stats Zone, Haymarket Media Group

Digital Data Service of the Year
What Car? True MPG, Haymarket Consumer Media
Highly Commended : Roadwork.org, ELGIN

Digital Edition of The Year
The Week iPad Edition, Dennis Publishing
Highly Commended : BBC Good Food, BBC Worldwide/Immediate Media Co.

Digital Publisher of the Year (Business Media)
Estates Gazette, Reed Business Information

Digital Publisher of the Year (Consumer Media)
Future Publishing

Directory of the Year (Business Media)
MIMS app, Haymarket Business Media

Directory of the Year (Consumer Media)
KC Colour Pages, KC Information Services

IT Development Team Of The Year
Dennis Interactive Tech & Design Team, Dennis Publishing
Highly Commended : FindaportCD, Shipping Guides

Marketing Team Of The Year
Estatesgazette.com, Reed Business Information

Newcomer of the Year
Duedil

Outstanding Achievement of the Year
Estates Gazette, Reed Business Information

Outstanding Team Leadership of the Year
Carrie Tyler, ELLEuk.com, Hearst Magazines UK

Paid Content Sales Team of the Year
BankersAccuity, Reed Business Information

Product Development of the Year (Business Media)
Charity Choice, Willmington Business Intelligence

Product Development of the Year (Consumer Media)
What Car? True MPG, Haymarket Consumer Media