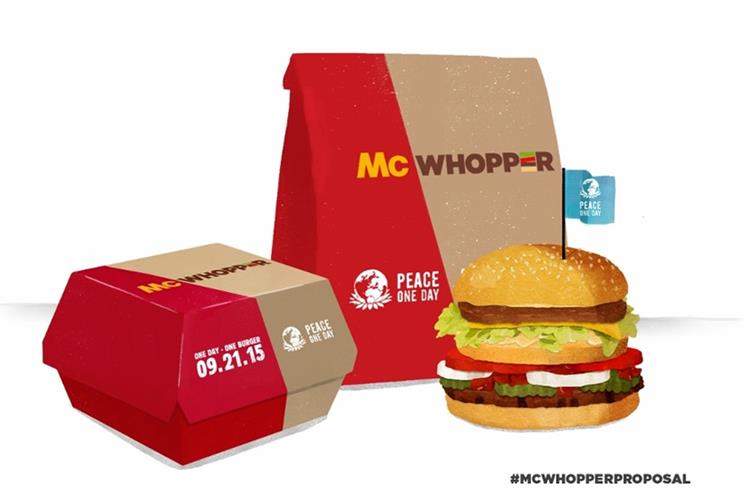 When I worked in PR, it was often said (half jokingly) that there were only four real ideas in the industry – a celebrity endorsement; a sponsored day; a commissioned "research" report; or floating some old shit down the Thames. Advertising agencies made ads, and PR agencies endorsed them.
However, over the past ten years, things have changed. Given that we live in a media landscape where digital media is infinite, and where Blue Monday and National Pie Week are very real things, it is easy to sneer and assume that the advertising industry doesn't have much to learn from PR.
Nothing could be further from the truth. They overlap hugely. Just compare the historic explanation of PR to the current advertising definition. PR's is provided by its father, Edward Bernays. Writing in his 1928 book, Propaganda, he states: "[PR]…is composed of inherited prejudices and symbols and cliches and verbal formulas supplied to them." I don't know about you, but that sounds an awful lot like advertising.
Conversely, Jeremy Bullmore described advertising in 2016 as "Any communication, usually paid-for, specifically intended to inform and/or influence one or more people." That sounds remarkably like PR.
I'd argue that the end goal of PR (to cut through and achieve broad exposure) entirely mirrors that of modern advertising; it is no coincidence that most Cannes winners over the past ten years have harnessed the best elements of PR, whether or not they are part of the newly amended category. Given the blurring of the lines, what can advertising agencies learn from the dark arts of PR to help their creative cut through and win more awards?
1. Tap into motivated reasoning
The reason why a number of made up days exist can be traced back to this phenomenon. Essentially, as Tim Harford puts it, "When we reach the conclusion that we want to reach, we're engaging in 'motivated reasoning'". People believe what they'd like to, not some rational truth, even when it's bad for them. People read stories that reinforce what they believe.
So, what this means for your award entry: if your brand has a number of fans that respond to your brand's history, indulge them. The McWhopper work from Y&R does this. It became famous (and award winning) because it empowered fans of fast food and paid homage to the history of the rivalry between McDonald's and Burger King, wrapping this dispute within a larger media moment, World Peace Day.
2. Encourage (scientific) curiosity
Not every brand has fans. No matter how much you'd care to admit, not everyone wants to endorse your brand of curtains. Buy them, yes. Be a fan of them, no. And yet, if that brand of curtains used a trusted spokesman (call it the "Attenborough effect"), and involved you with a story (what type of materials do you like? How long? What type of room?), responding to what you've done, you'd be more likely to find out more.
A study into "scientific curiosity" found that if you're able to encourage people to find out how things work or came to be, you'll be more likely to stop them buying or endorsing something that reinforces their views – whether it's a political party or a brand of trainers. So, how is your brand encouraging interest into how things are made, participated with or thought about? Under Armour's "I will what I want" with Gisele neatly encapsulates this – how female athletes tackle prejudice by demonstrating how they respond to it – in essence, what goes on behind the scenes.
3. Practice 'whole picture' marketing
Having worked both within advertising and PR, I can confirm that there's a palpable difference between relationships with clients. Advertising agencies tend to spend most of their time with the marketing director, and few PR agencies really have the same level of contact. In contrast, PR, with its many divisions (consumer, public affairs, technology, healthcare, corporate) has multiple relationships.
Yes, the consumer PR division may cover off the PR manager, who often reports into the marketing director – but it's the other relationships that PR can talk to that help give it a leg up. Corporate and public affairs have greater insight into what should set the overall communications agenda, and, as a result PR agency chief executives often have relationships with client CEOs – they help shape what purpose the company should alight upon. Just look at Intermarché's campaign to tackle food waste. A corporate or public affairs department may have driven the "funny shaped fruits and vegetables" campaign; it's unlikely that it was solely the marketing director. Agencies should cultivate broader relationships to learn what legislation is likely to affect their clients' businesses; that means thinking beyond the immediate (advertising) need.
4. Use your little black book
Increasingly, agencies realise that they cannot do everything. Experts abound, whether that's within child psychology, behavioural economics, semiotics or VR. And yet, beyond the odd pitch, agencies are reluctant to research and stress-test their ideas in the same manner PR agencies are – by talking to a journalist to see if they would get coverage.
Even beyond column inches, there is a real case to be made for agencies of all stripes maintaining relationships with those who can add an extra dimension to ideas, beyond those held within the production department. Take the multiple-awarded "Sea Hero Quest". That wasn't just Deutsche Telekom deciding to invest, nor was it just Alzheimer's Research UK. It was a combined effort between agency(ies), clients and media owner, showcasing a thorough understanding of who was best equipped to help. It wouldn't have been possible without agencies behaving more like a "fixer", using expert contacts.
Historically, it used to be that in order to create successful work, you PR-ed the ads. Now, more than ever, agencies are advertising the PR.
Will Humphrey is strategy director at Psona.