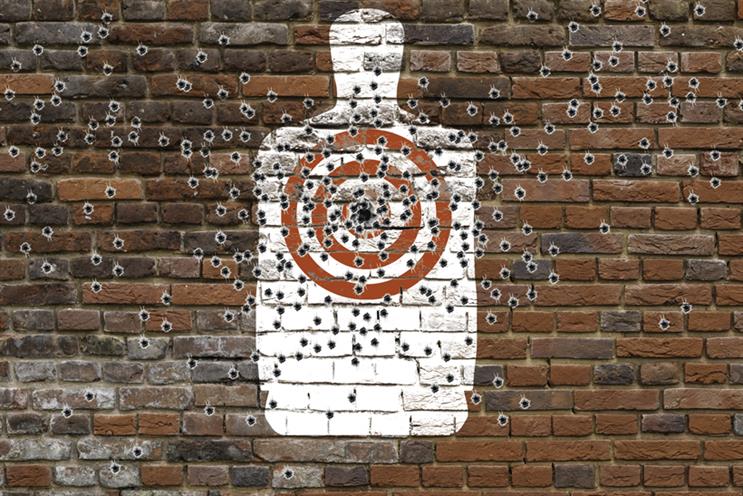 There are a lot of fights in media at the moment: overly didactic, simplified arguments such as YouTube vs TV, humans vs robots, print vs digital – or print vs me, if you are a chunk of the newspaper industry (see box).
The biggest issue that I keep bumping into right now is the question of precision targeting vs mass marketing – sometimes oversimplified as data-driven digital vs TV or print.
It is a huge consideration for many brands that ultimately revolves around context. Understanding context used to be the domain of media agencies. I believe it still is, although some of the recent rhetoric would suggest otherwise. More technology, anyone?
Marketers dilemma
Two books standing on the shelf in my office encapsulate the "mass vs precision" dilemma facing marketers. The first is Don Peppers and Martha Rogers' The One-to-One Future: Building Business
Relationships One Customer at a Time, which was one of the first business and marketing books anyone recommended to me.
It was the late 1990s and as a dewy-eyed, academically focused graduate at a media agency, I jumped on some of it, specifically the idea that: "Practised correctly, one-to-one marketing can increase the value of your customer base… [by] being willing and able to change your behaviour towards an individual customer based on what the customer tells you and what else you know about that customer."
Roll on 20 years and it is more relevant than ever. The capability to act with this level of precision is now all around us.
At the same time, we also have the second iteration of Byron Sharp's hugely influential How Brands Grow. His book puts forward a very different argument to Peppers and Rogers' because it cham-pions reach-based marketing in the age of digital precision.
Brands need to have the greatest possible reach with all the potential consumers in that category, not just a narrow core of customers, according to Sharp.
As a result, a handful of brands are openly questioning the notion of precision and a number of others are openly embracing it.
Many more are debating the "mass vs precision" question behind closed doors.
There are clearly pros and cons on both sides. At MediaCom, we see clients increasing efficiency through data-driven precision and we see clients growing brands through scaled mass marketing.
But we also see significant tension between the two, often driven by those on the precision bandwagon, who need to stop and consider where they are taking things.
We see that the more precise you are with your targeting, the more you run the risk of optimising yourself into a suboptimal position.
This is not to say that precision doesn't work, but that there are some "red flags" – the most significant of which is that invariably the individually precise is culturally invisible.
This is critical. The efficiency of precision is enticing. For the right challenge, it works.
But then your targeting has to be based on the right insight from a good data point that is actionable in media – three things that often don't line up.
They are also three things that, taken together, can easily end up overcomplicating things for brands.
Losing one's place
It is important to recognise that, when done well, this precision can and does drive sales magnificently, as we have found with a number of clients recently.
However, the contextual effects of precision targeting fall into the trap of the law of unintended consequences.
At a business level, the brand can become less visible to employees, staff and colleagues. It can lose its place in culture (and brands do have a place in and frame culture, along with a lot of other things) and it doesn't necessarily gain the positive effects that can come with acting with confidence.
Let's not forget that the IPA Databank would show you that fame campaigns are the most effective on
all measures – notwithstanding the fact that there haven't been that many data and digital precision-based cases in the IPA Effectiveness Awards over the years.
Building brand fame and having an impact on culture are, at least partially, about the understanding of context.
You can create an argument for reaching large numbers of audience through pretty much any medium or vehicle within a medium – that's largely what media packs have been about for years.
However, what is often neglected is the nature of that distributed audience – an impact isn't the same everywhere. Hell, an impact on ITV isn't the same as in the middle of The Jeremy Kyle Show or Broadchurch.
At the other end of the spectrum, many of the purveyors of mass marketing have rested on their laurels for too long.
Who wins?
Putting scaled precision into mass channels will be a critical part of the evolution of media execution over the next few years – we can't continue to trade these things on old currencies that bear no resemblance to what we are trying to change (be-haviour). But the cost of investment is high and the pace of real change is slow.
Maybe that is the real M&A that is needed in media right now – a return to the original dotcom boom of "old world/new world" mergers to force the piece and force the peace.
So, mass vs precision – who wins? Well, I love the idea of precision, I grew up with it, but sometimes it just isn't the right thing to do.
If individually precise is culturally invisible, that is a real problem for any marketer.
Brands that want to be effective in the future must find a way of balancing precision with cultural traction.
Chris Binns is the managing partner and head of new-business strategy at MediaCom UK
Mass v precision
Procter & Gamble's admission last month that it has eased back on targeted ads on Facebook because "we went too narrow" caused shockwaves, Gideon Spanier writes. "We targeted too much," Marc Pritchard, P&G's chief marketing officer, confessed.

"Now we're looking at: what is the best way to get the most reach but also the right precision?" That has led P&G, the world's biggest advertiser, to spend more on TV and other traditional mass media. Other brands are challenging conventional wisdom and rethinking their media planning in dramatic ways.

Tesco slashed virtually all its print adspend earlier this year and shifted a lot of the money into other channels – including online and its own "media" such as the brand messaging on its thousands of delivery trucks – to improve reach. Smart advertisers such as Coca-Cola know they must experiment. In the age of digital disruption, brands still need mass appeal.