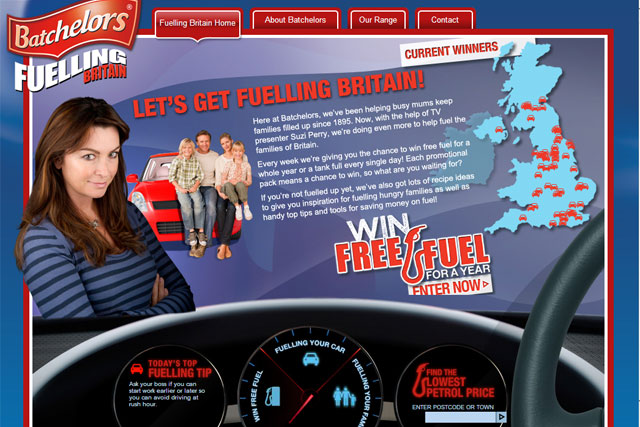 However, the company suffered a dip in sales of other brands.
Premier Foods today (25 April) reported a trading update that showed overall group sales were up 1.3% to £427m in the quarter.
The Batchelors 'Fuelling Britain' campaign was broadcast on radio this year, the only Premier Foods 'power brand' that the company has decided not to support with TV advertising.
Today, it said the campaign had helped lift sales of Batchelors.
In March, Premier Foods disclosed a shift in strategy to focus its efforts on its eight key brands: Hovis, Mr Kipling, Ambrosia, Sherwood's, the Loyd Grossman sauces range, Bisto, Oxo and Batchelors.
Premier Foods has been forced to shrink the size of its business by selling off brands in an effort to reduce its debt pile, which at November last year, stood at £1.27bn.
In its update to the market today, the company pinpointed the performance of the Loyd Grossman, Sharwood's, Batchelors and Oxo brands.
Sales of its eight 'power brands' was up 3.7%, from £207m to £215m, between quarter one 2012 and quarter one 2011.

But sales of its other brands fell 0.5% in the same period, slipping from £93m to £92m.

Michael Clarke, chief executive of Premier Foods, offered a positive outlook for the future of its brands this year.
He said: "In this year of British celebration, we believe that more and more of our retail customers and consumers will be choosing to buy British brands like ours, made in Britain, supporting British jobs."
Follow John Reynolds on Twitter @johnreynolds10