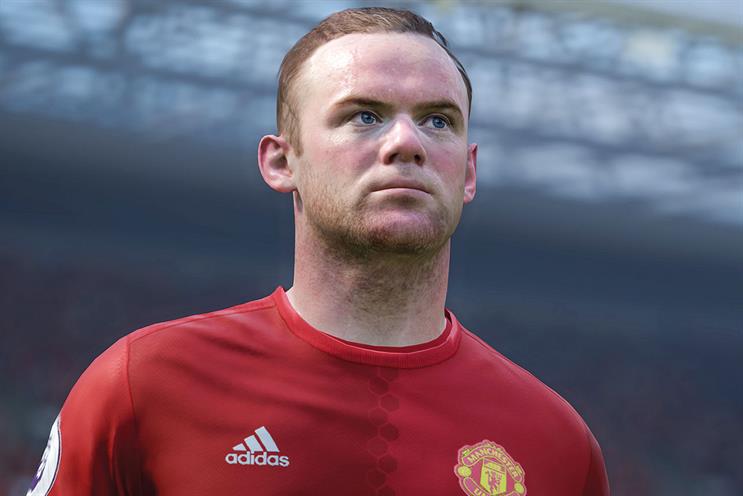 EA Sports, creator of the FIFA series, has become Manchester United's first official video-games sponsor, while Liverpool and Barcelona have signed similar deals with Pro Evolution Soccer publisher Konami.
The deals see the video game companies paying, like any other sponsor, for the privilege of associating with the world's top football clubs.
They also enable the companies to include more in-game detail on the clubs and to market their new releases on each club's channels. Clubs gain the boost in sponsorship revenue and engagement with a younger gaming audience.
In United and EA's case, the target audience is 16- to 24-year-old males, a demographic that loves football but is turning away from live broadcasts. According to July Ofcom statistics, people under the age of 25 are watching a quarter less broadcast TV than in 2010, embracing on-demand viewing.
That isn't to say that football's relationship with live TV is at risk. Rather, clubs want to follow younger consumers where they are spending time.
"We feel good about the media landscape, but with younger consumers spending less time in front of the flatscreen, we need to find new ways to engage with them," says Jamie Reigle, commercial director at Manchester United.
Reigle adds that, unlike watching on live TV, games such as EA Sports' FIFA give fans "intimate data and statistics" on players.
Changing from Nike to Adidas
FIFA has long been a popular franchise, so why has United waited until now to embrace a video games sponsor?
One reason is the change in kit sponsor from Nike to Adidas in 2014. Nike previously had a licence with Konami, meaning United was unable to sign its own partnership.
"We had the opportunity to partner EA due to the flexibility given by switching to Adidas," Jamie Reigle, United's commercial director, said.
EA Sports benefits from the relationship by using the club's channels to push out marketing about the upcoming FIFA 17 release. The deal also gives it "scarce assets" such as intellectual property and access to players.
In return, Reigle said, United earns the distinction of partnering the most popular football game and gains valuable data on gamers.
"EA's data is really powerful," Reigle said. "To use a granular example, they can tell us in the USA not only how many people are playing, but who has selected to be a Manchester United fan." Data is available state-by-state, meaning United could in theory decide to host a promotional game in a state that has more local fans.
Combining different data sources could influence other aspects of United's marketing.
"Where it's really interesting is to take fan data, EA data and social data, and we can suddenly weave together a landscape of where our fans are and what their behaviours are," Reigle said. "That's powerful to us as a club as we try to sell merchandise, but it's also powerful to our other sponsors."
Having a better idea of United's fan base in particular territories leads to "deeper" sponsorship conversations. "It's more than just saying: 'We have lots of fans in Asia,'" Reigle said.
With gaming increasingly becoming a live, connected experience, it's likely gaming brands will make more of the data they hold on consumers.
SuperData's chief executive, Joost van Dreunen, said: "Games have had to develop analytics on the back end. It started with [asking], 'How do we know our servers aren't broken?' and became a way of monitoring user behaviour."
Thus far, gaming companies have used that data on consumer preferences to optimise gameplay. Now, says Joost, that data has become a commercial asset in and of itself.
An integrated partnership
EA Sports did not respond to a request for comment, but observers pointed out how integrated the two brands are.
One example is the inclusion of midfielder Paul Pogba in promotional material for FIFA 17. Pogba's £89m transfer became public news on 9 August. His FIFA 17 promo images were out just two days later.
"EA had images of Pogba made up already," notes Haran Ramachandran, head of digital at M&C Saatchi Sport and Entertainment. "They had been party to that discussion with United with regards to the transfer going through.
"The club being integrated with its partners is nice to see."
Reigle also points to Alex Hunter, a fictional character in the FIFA 17 trailer (below).

"Alex Hunter is wearing a Manchester United jersey and trying out for the club," says Reigle. "That's something beyond the typical integration into the game."
FIFA V Pro Evolution Soccer
Manchester United can claim a branding win by poaching EA Sports, which partnered Liverpool until this year.
According to SuperData, FIFA 16 has made $532m since September last year, compared with PES 2016's $12m over the same period. FIFA has ten million monthly active users, dwarfing the 250,000 who play PES.
United will have paid more for the deal – but it can afford it given that the club is the third-richest in Deloitte's annual Money League, with revenues of £395.2m in 2015, behind Real Madrid and Barcelona. Liverpool is ninth.