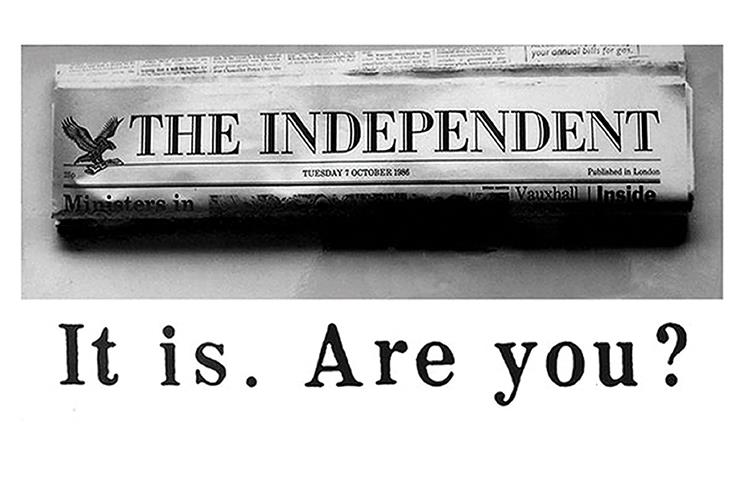 The Independent's closure of its print titles after 30 years has sent shockwaves through the news industry.
Just as its birth in 1986 – with the inspiring slogan "It is. Are you?", created by Saatchi & Saatchi – captured a moment in time, so the death of The Independent in print feels like another watershed.
More print closures of UK newspapers look certain. Paid-for print circulation and ad revenue have been falling for too long and digital ad growth is badly lagging after a brief moment of optimism 18 months ago, when it looked like ad-funded websites at the Daily Mail and The Guardian could offset print decline.
Newspaper brands had 27.3 per cent of the UK ad market in 2008. Now they have 11.4 per cent including their online operations, according to Group M, which estimates that adspend across nationals and regional titles has fallen from £3.5 billion to £2 billion.
If anything, the mood is hardening. Traditional big spenders such as Tesco and Marks & Spencer have turned off newspaper spending almost completely at the start of this year.
UK print ad revenue fell 18 per cent in January at a time when the overall ad market is growing, and that fall might be an underestimate.
Campaign spoke to several ad buyers who believe the print decline was closer to 30 per cent in January as some media owners discounted ads at far below the "ratecard" price and bundled in more free ad space as an incentive for agencies and advertisers.
Even leaving aside seasonal factors, with a better February and an early Easter in prospect, the picture is dire.
The Independent's ad revenue crashed 61 per cent in January, which underlines how confidence in its future was ebbing. Its sister paper i, which is being sold to Johnston Press, saw its ad sales fall a similar amount as they were bundled with The Independent.
However, Ashley Highfield, the chief executive of Johnston, thinks his company can boost ad revenues of i by "cross-selling" it with its other titles The Yorkshire Post, The Scotsman and the News Letter in Northern Ireland. "This helps us enormously with national media agencies," Highfield says.
He adds that Johnston paid £24 million for i because its coverprice revenue generates two-thirds of turnover and there is room to grow online as it has had no web presence.
Market woes
The Independent was not alone in feeling ad sales pain at the start of the year, according to Nielsen. Ad revenue at the Daily Mail fell 35 per cent, The Times 27 per cent, The Guardian 22 per cent, the Daily Star 21 per cent, the Daily Mirror 19 per cent, The Sun 18 per cent, The Daily Telegraph 15 per cent and the Daily Express 14 per cent.
Supermarkets were once the most loyal of newspaper spenders but Asda, the UK's top press advertiser in January 2015, slashed its spend by £1.1 million, or 43 per cent, in January this year and is now only the fourth-biggest spender. Aldi, the third-biggest a year ago, cut its press outlay by 44 per cent, or almost £1 million, to push it down to sixth place.
Tesco, the tenth-biggest advertiser 12 months ago, was particularly brutal, reducing press ads by 97 per cent as it redirected money to TV and social media. That was another £1 million loss to newspapers' income, meaning the UK's biggest supermarket plummeted to 282nd place in the ranks of press advertisers.
Then there was Marks & Spencer, the 25th-biggest press spender in the UK in January 2015, which spent nothing in the first month of this year – albeit at a time when the company was parting ways with its chief executive. Virgin Atlantic and Jacobs Douwe Egberts also invested six-figure sums in press 12 months ago and spent nothing this January. Vodafone, a £1 million spender last year, halved its outlay.
Rob Lynam, the head of display at MEC, says what is striking is how different many of the top 20 press advertisers look compared with a year ago. "There's no pattern," he says. "Some advertisers are making a strategic decision to come out completely, some are reducing their investment by 50 per cent, some are reducing it by just 5 per cent. The longer it goes on, the harder it gets for publishers to recover." Lynam adds that publishers will have to embrace more native advertising – sponsored content and advertorials – to boost revenue.
The positives
Print still has many virtues. The success of i as a cut-price paid-for title and freesheets such as Metro and the London Evening Standard, with their lean editorial operations, shows that readers still like the medium – if they don't have to pay much.
Advertisers also like newspaper brands' multiplatform reach across press, online and app. But Lynam suggests the sector has a perception problem because advertisers are being offered wildly different online propositions. "Every publisher is at a vastly different stage of their digital evolution," he says, comparing the free MailOnline and The Guardian to The Sun, which has recently gone free online, and the paywall of The Times. Plus, there are thousands of online sites, led by Google and Facebook, with which newspapers do not compete at the newsstand.
More consolidation is on the cards after the sale of Local World to Trinity Mirror and i to Johnston. In both cases, the acquirers cited greater scale in negotiations with advertisers as a rationale for the purchase. The Daily Telegraph is also carrying out a "strategic review".
One step publishers could take is to share ad sales operations without a merger. TV, a market double the size, has just three major sales houses: ITV, Channel 4 and Sky.
"It's so logical," according to Highfield, who brings an outsider's perspective after years at the BBC and Microsoft, and has set up 1XL, a pooled regional digital ad sales platform. "But you're dealing with a lot of long-term standalone mindsets."