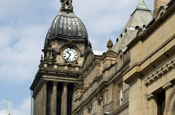 The figure, which applies to the 2007-2008 tax year, is up from £954,023 in 2006-2007.

The report found that one local authority, Birmingham City Council, spent more than £9 million on publicity during the year.

Matthew Elliott, the chief executive of the TaxPayers' Alliance, said: "It is incredibly disappointing that, despite the economic downturn and the loss of millions in Icelandic banks, local authorities are still spending nearly half a billion pounds a year on publicity.

"In the middle of a recession, councils need to cut back on propaganda and spin doctors and deliver savings to taxpayers."

But a spokesman for the Local Government Association said: "People need to know how to access the £100 billion worth of vital services that councils provide every year.

"Lumped into advertising figures are statutory notices that councils by law have to advertise for, such as job adverts or site notices for planning applications.

"The amount makes up 0.0043% of councils' total spend."