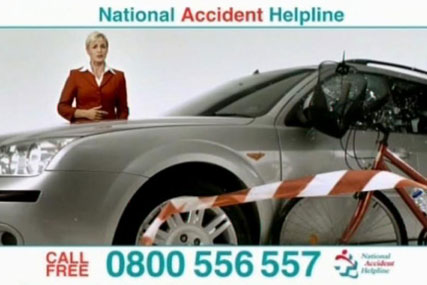 The move comes after an inquiry ordered by David Cameron into Britain's "compensation culture", which found that £40 million a year is spent on ads urging people to claim after suffering injuries.
The inquiry chairman Lord Young of Graffham, a cabinet minister under Margaret Thatcher, stopped short of recommending a ban on broadcast and press campaigns by lawyers and claims management companies such as National Accident Helpline and Claims Direct but has asked the ad industry to review them.
In a letter to the Advertising Standards Authority, Lord Young commented that: "It is possible that these advertisements may be within the letter of the rules. However, I do not consider that they are socially responsible."
Although no decisions have been taken, one option is for the industry's code of practice to be tightened so such ads put less emphasis on the likely financial rewards of making a claim. Young wants them to stop offering "inducements".
However, Sam Porteous, the chief executive of National Accident Helpline, defended TV campaigns. "Such advertising is one of the only means of giving people awareness of their rights to justice if they have suffered a genuine injury," she said.
The ASA promised to give careful consideration to the findings in Young's report. A spokesman said: "We share the objective of protecting vulnerable people from irresponsible advertising."