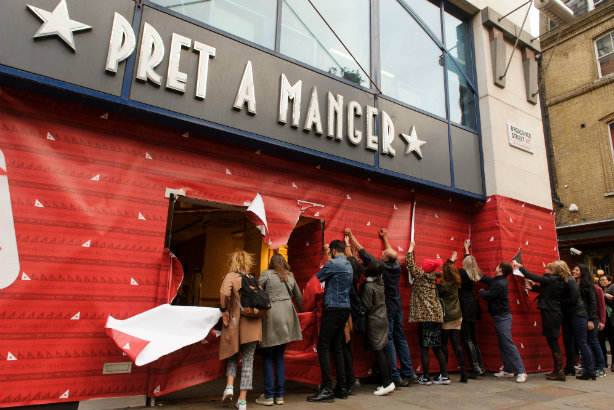 On Monday, the company wrapped up its shop in London's Broadwick Street as a giant Christmas present, with customers invited to tear their way through to get a free festive sandwich. Pret's Christmas menu launches nationally on Tuesday along with its 'A Little Thank You' campaign.
The campaign will raise awareness and money for five homelessness charities among the 40 good causes it already supports: Glasgow City Mission, The Choir with No Name, The Clock Tower Sanctuary in Brighton, Cardboard Citizens in Whitechapel and The 999 Club in Deptford.

As is the case throughout the year, Pret will not use traditional advertising, instead promoting the charities through its shop windows, packaging, team members and social media channels to tell its stories and interact with customers.
It says that more than two million customers a week will see the five charities' logos on its packaging and coffee cups. For each Christmas sandwich and baguette sold, the company will give 50p to the Pret Foundation Trust, which in turn will distribute the money to the individual charities. Last year the firm sold more than 625,000 festive sandwiches – but instead donated 5p from every product sold to charity.
In addition, the firm's social media channels and website will feature the charities' stories, with new photography and video assets. Pret's digital media budget, including sponsored posts on Facebook, Instagram and Twitter, will be used to promote the charities. On Instagram, Pret will run a portrait photography series telling the stories of the people it works with through the different charities and the firm's own apprenticeship scheme for the homeless and ex-offenders.
PR support will also be given to each of the charities to help tell their stories to key media over the winter months. The firm has two in-house PR people, both of which are in roles created in the past 18 months.
PR manager Alice Clark said: "Each of the charities will be gaining national awareness from the Christmas campaign. We're working with them all to identify what they want to achieve from the additional awareness and who their key audiences are. We're then helping to create individual angles to pitch to their target media. Some will involve Pret, others will just be using the campaign as a timely opportunity to pitch."
This article was first published on www.Prweek.com