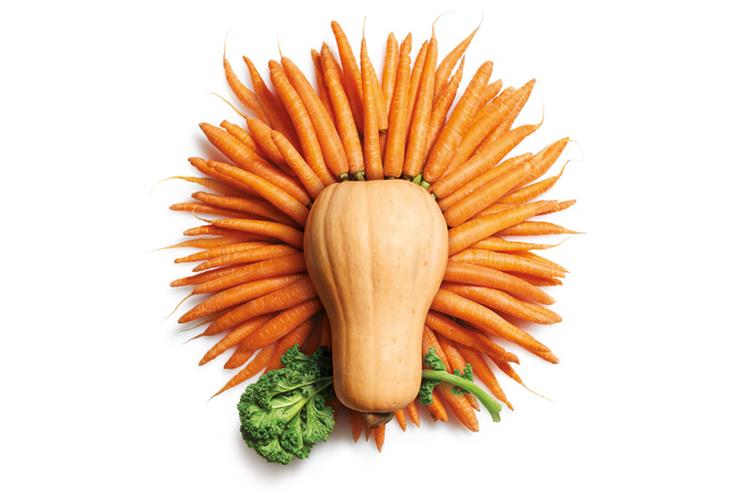 The fast food chain is today launching a campaign to promote its veggie options and encourage omnivores to reappraise meat-free meals.
Pret's total sales were up 13.9% for the full-year 2015 to £676m, helping profits grow 14.5% to £84.3m. The growth was driven in part by new lines, making up 14% of total sales - with the single best seller being the vegetarian Beets, Feta & Squash SuperBowl, which outsold its chicken and salmon equivalents.
Avocado was the fastest growing ingredient, meanwhile, with Pret getting through five million of them. Supermarket sales of the savoury fruits rocketed by a quarter last year, reaching a sales value of £142m and overtaking more established fruits like oranges.
Mushroom & Avo Sushi Salad
To better ride the demand for veggies, Pret today launched 'Not Just For Veggies', a campaign developed with the input of 10,000 people who participated in a poll on the blog of Pret's CEO, Clive Schlee.
Pret's role is to make eating less meat easy and delicious for everyone, not just for veggies
Developed by Pret's in-house creative team, the push features images of lions and piranhas hand-crafted out of fresh vegetables and fruit. Pret will turn its website and social channels green to announce the campaign and publish content that continues the conversation.
It is also expanding its vegetarian range with products including Mushroom & Avo Sushi Salad and Chana Chaat Flatbread, while from next month it will launching two new veggie Chef's Specials each month of the summer, asking customers to vote via its social channels on whether the recipes have "hit the spot" or "lost the plot".
"The consultation we held via Clive's blog and Pret's social media channels last year showed us how passionate our customers are about helping to shape the future of our menu," said Pret's group director of marketing Mark Palmer.
"It reaffirmed that Pret's role is to make eating less meat easy and delicious for everyone, not just for veggies.
"Our new 'Not just for Veggies' campaign is both a response to the customer 'consultation', and a way of continuing the conversation further."