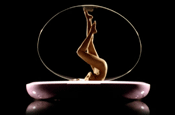 The cinema ad, directed by Rankin, broke during the launch of the movie Sex And The City.
It opens with a close-up of a pair of bare female legs emerging from a giant make-up compact that resembles a huge clamshell.
The woman goes on to apply Love Legs cosmetics before putting on lingerie, a dress and high heels.
The campaign is supported by a press ad, which launched earlier this month, shot by Rankin. It will appear in women's magazines.
CreditsProject
Compact
Clients
Sue Clague, commercial director, and Gail Newport, marketing manager, Pretty Polly
Brief
Launch Pretty Polly's Love Legs cosmetics range
Creative agency
Beattie McGuinness Bungay
Writer
Julia Martens
Art director
Jade Trott
Planner
Aimee Luther
Media agency
Goodstuff
Media planners
Lucy Wilkins, Danni Mohammed
Production company
HSI
Directors
Rankin, Chris Cottam
Editor
Gareth McEwen, The Whitehouse
Post-production
The Mill
Audio post-production
750mph
Exposure
National TV, cinema