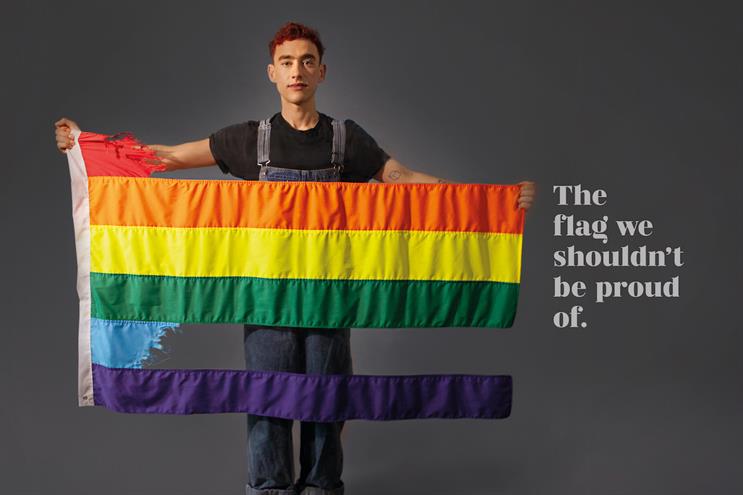 The campaign features rips in two of the six stripes on the LGBT pride flag to highlight how one third of LBTQ+ young people have attempted suicide.
It was devised by Gate London creatives John Osborne and Rickie Marsden, who want to start a conversation around the topic.
The agency sought partners for the idea, resulting in Gay Times magazine and Years & Years frontman Olly Alexander throwing their weight behind 'The Flag We Shouldn't be Proud Of' campaign on World Suicide Prevention Day today (10 September).
In the campaign the iconic Pride flag's red and blue stripes, which symbolise 'Life' and 'Harmony', have been mutilated. Activity will be socially driven and features a film and social posts starring Alexander.
Primesight has also donated some of its poster sites to the campaign.
Gay Times editor William Connolly said: "As we know, issues surrounding mental health affect LGBTQ people disproportionately, and World Suicide Prevention Day is an opportunity for us to reflect on the vast work that still needs to be done within the community.
"We need to bring a heightened sense of urgency to our approach to mental health so that queer people everywhere can live their lives happily and freely, without fear or oppression."
Alexander added: "There's such a stigma around mental health that stops us from speaking out. We have to have the actual services and provisions for LGBTQ people, because they are quite slim on the ground.
"The things that we can do to help that situation is to be on our local representatives so they are not defunding or shutting them down."
Those who need help, or know someone who does, can call the Switchboard LGBT+ hotline on 0300 330 0630 or visit the website at switchboard.lgbt.