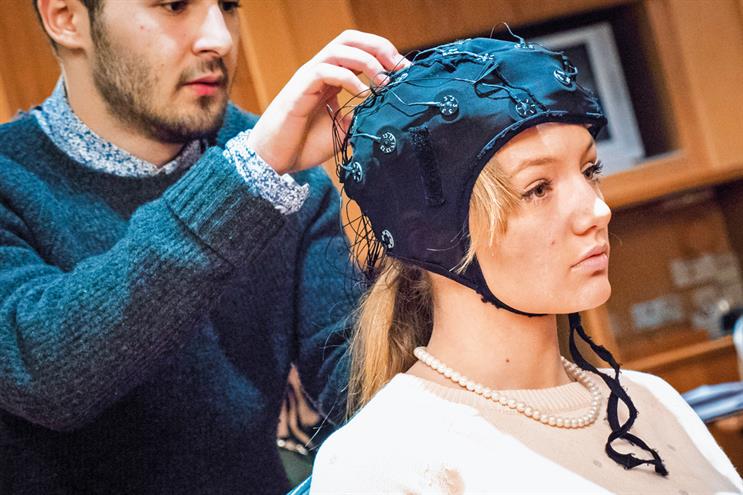 Time to put your thinking cap on
Neuro-Insight uses a technology called steady-state topography to measure electrical activity in the brain. "Steady-state topography is a refinement of EEG," Neuro-Insight's chief executive, Heather Andrew, explains. "It measures something slightly different: EEG measures the amount of electrical activity in the brain, we measure the speed of response of the brain."
An electrode cap using scalp sensors tracks the speed at which electrical signals propagate through the brain, enabling Neuro-Insight to monitor several different brain states. "We look at emotional responses, we look at the strength of emotional responses and we look at the direction," Andrew says. "We also look at attention and what we call engagement, which is a sense of personal relevance."
For the Ocean study, Neuro-Insight focused on long-term memory encoding – "what's being encoded or stored into memory at the point at which people experience something," Andrew explains. "Our brains are exposed to more information than we can store away; they're very selective about what's sent down into memory."
That makes memory encoding a useful metric in measuring how consumers respond to advertising.
"It's not cause and effect – we don't remember something, then go out and buy it," Andrew says. "If our brain says 'that's useful and interesting, I may want to act on that one day', that information gets sent down into memory. So it's a really key measure for us, because it's a good indicator of whether a communication is likely to be effective in the real world."
Digital out-of-home has developed at a rapid pace – and, although it has brought new technologies and innovations to the out-of-home market, it has left some advertisers looking for hard evidence as to what the implications are for brands – and how it can best be used in a campaign. As Martyn Stokes, the chief strategy officer at Kinetic UK, points out: "It is a very fast-growing medium, but one that we know very little about so far in terms of what it really does for brands."
Chris Marjoram, the managing director of Rapport, agrees. "Out-of-home is very focused on out-of-home; and what advertisers want to know is where out-of-home fits in the overall media mix," he says. "They want to know how it can build their brand, how it can create brand fame."
A new study by Ocean and the neuromarketing research company Neuro-Insight could change how we think of DOOH – revealing a priming effect on consumers that could potentially place the medium at the heart of future cross-media campaigns.
Brain trust
Neuro-Insight used its brain-imaging technology to monitor levels of memory encoding in 192 respondents after they had been (unknowingly) primed by exposure to either TV or DOOH advertising. The group was divided into two, with half being walked past a full-motion DOOH display showing ads for either Peugeot or Lynx, and half being primed by TV ads for the same products shown in a waiting room.
The Ocean View
We carried out this study because we wanted to show the role that digital out-of-home screens play in the out-of-home and mobile environment. Instinctively, we felt that DOOH plays the same role that TV does in the home, and we wanted some evidence to show the power of it. What we've shown is that, although TV and DOOH are superficially similar media – both using full-motion video to grab the consumer's attention – they actually affect our brain in very different ways, with wide-ranging implications for advertising strategies. DOOH is there when people are on the move, just as mobile is – and this screen combination resonates with the consumer, priming them for subsequent messages delivered through mobile devices. Advertisers, then, need to consider DOOH in a wider context – building their campaigns around the powerful priming effect of DOOH on the growing mobile ad market.
Tim Bleakley is the chief executive of Ocean
Both sets of respondents then donned Neuro-Insight's measuring equipment, which uses steady-state topography to measure electrical activity in the brain. They were given a selection of magazines containing ads for the products and asked to browse the web on a tablet – again, seeing ads for Peugeot and Lynx in both media.
"We're tracking electrical signals through the brain and measuring how quickly the brain is responding," Neuro-Insight's chief executive, Heather Andrew, explains. "What gets encoded are things the brain decides are useful, interesting or might be important to us. And because of that, there's a correlation between memory encoding and subsequent purchase behaviours."
The results were intriguing: the group that saw a DOOH ad first responded more strongly to the mobile advertising – 36 per cent higher levels of memory encoding, regardless of whether they had been shown the Lynx or Peugeot ads. Conversely, those who saw a TV ad responded more strongly to magazines as a secondary medium – 11 per cent higher.
"It was a very, very strong effect – clearly statistically significant," Andrew says. "Because they were matched groups, it could only have been driven by the differences in their initial experience. What it was saying to us is that TV is very effective in priming people for magazine reading, and digital out-of-home is most effective for priming people for online communication seen on tablets."
Unsurprisingly, the effects are even more pronounced for linked creative. Memory encoding levels in response to online material were 48 per cent higher among those who had seen the same brand on DOOH first, compared with those who had been primed by the same brand on TV. Conversely, response to magazine ads was 27 per cent higher among those who had seen a matched campaign on TV than those primed by DOOH. "Digital out-of-home is very much a player against TV – or with TV," David Gordon, Posterscope's group insight director, says. "This study is demonstrating the importance of that connection, the importance of priming."

The congruence effect
So, why do consumers respond differently to magazine and online ads after being primed in different media?
Neuro-Insight calls it the congruence effect – if you're engaged in a particular activity, then you pay closer attention to messages delivered in a medium that matches your current brain state. "We're more receptive to information or situations that are closely linked to what we're doing," Andrew explains. "Television is a sit-back, immersive experience, usually experienced in your own home – just like magazine reading. And digital out-of-home is about heightened response to communication on the go – like getting messages on a mobile device."For advertisers, the implications are clear.
"The key finding for me was the fact that digital out-of-home has a stronger effect than television on the new world of mobile and digital advertising," Nick Mawditt, the director of insight at Talon, says. Andrew agrees. "There's a very strong reason for brands to think about using those two media in a linked way when they're doing their media planning," she says. Instead of being considered in isolation, DOOH should be the fulcrum of a cross-media campaign, driving mobile engagement through linked creative and tapping into the powerful congruence effect that links brain states across mobile and out-of-home activities.
"We have a wonderful medium, but it's a complex medium," Mark Craze, the Outdoor Media Centre chairman, says. "This research helps raise the insight that planners, creatives and advertisers have as to why they should use the medium."Martin O'Boyle, the head of activation at Starcom MediaVest Group, agrees: "We need to link digital out-of-home to other media. We need to bring data into the industry – and that link between DOOH and mobile is something that's very important."