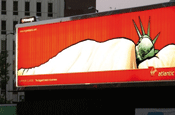 Two new strategy group heads have been appointed, who will report to sales and marketing director Nigel Clarkson, overseeing the team of account managers and executives who look after agencies and poster specialists.
In addition, a new client sales manager and a backlight regional sales manager have been hired to bolster the team in what has been the company's most successful trading year to date.
Louise Pither is promoted to group head and will be responsible for a team of four looking after poster specialists Kinetic, IPM, MindShare Outdoor and MediaCom Outdoor, and all agencies within those groups. She will oversee all the outdoor bookings coming through Kinetic.
Jay Kingsley-Brooks, who joins from Avanti Screen Media where he was an account director, will oversee three account managers, including the newly created client sales position, with a team responsible for specialists Posterscope and Meridian, as well as agencies Carat, Zenith-Optimedia, Vizeum and OMD.
Vanessa Knight, from Kinetic North, has been appointed backlight regional sales manager and the new client sales division will be launched by Ted Baybutt, who joins from Poundbury Publishing where he was also client sales manager. He will manage Primesight's core sector of convenience and health clients.
Matt Adams completes the new starters, joining the trading unit working on the Kinetic account.