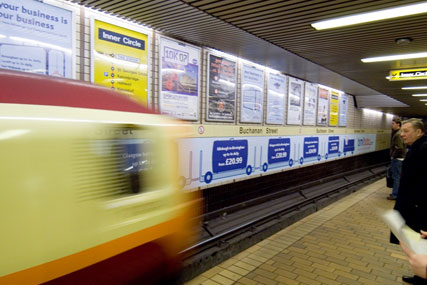 The outdoor company Primesight has launched the services to coincide with its new network of digital outdoor screens on the Glasgow subway, which offer advertising and news and current affairs from the Scottish broadcaster STV on platforms and at concourse level.
Primesight hopes that the ability to offer mobile search to commuters and other passengers below ground will make the subway a more attractive option for advertisers that want to get their ads talked about.
Advertisers such as B&Q, Nestlé, Strathclyde Police, Mentos, Warner Music and Virgin Active have already booked space on the digital network, which launched earlier this month.
Primesight has held the £6m Glasgow subway contract for 27 years.
Nigel Clarkson, the sales and marketing director at Primesight, said: "The timing of this 3G agreement is excellent for us as it coincides with our investment in digital panels."