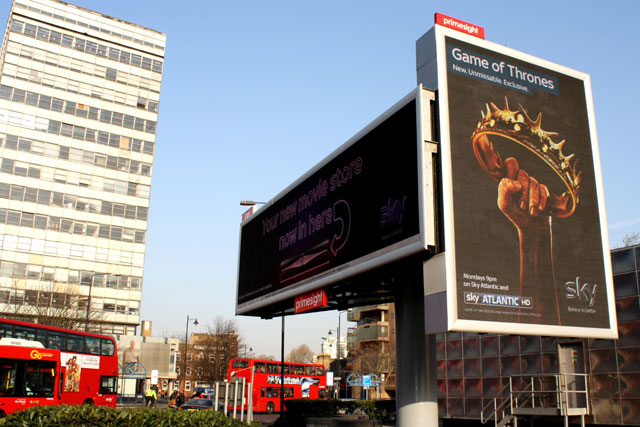 The backlit 96 and back lit 350 at Elephant and Castle have been converted into a digital 96-sheet and an LED portrait.
The digital 96-sheet will face four lanes of traffic coming north from the A3, heading to Waterloo, the City and the West End. The LED portrait faces traffic coming in from the New Kent Road.
Naren Patel, chief executive officer of Primesight, said: "The Elephant and Castle roundabout is an iconic outdoor advertising site.
"The new Southern Gateway D96 alone will be seen by over half a million people every two weeks, in our opinion making it one of the best outdoor sites south of the river."
IPM has booked several Primesight's digital sites including the Southern Gateway, Chelsea Yacht Club and The Western Wonder for Sky, which is running ads promoting its new Movie Store offering.
Henry Lucas, account director at IPM, said that as part of a national campaign, iconic digital sites like the Southern Gateway are vital for adding impact and standout.
He said: "The location and positioning of this site is perfect for running multiple messages and making them relevant at different times of day."
Additionally, Primesight recently retained its £8m outdoor contract with Glasgow Subway and has renamed its current Cheyne Walk digital site to the Chelsea Yacht Club after the owners of the site.
Follow Nick Batten on @NickBatten2