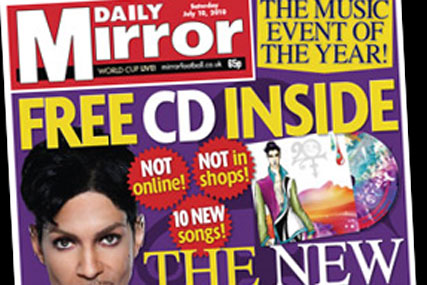 Sales of the Daily Mirror were boosted by 334,000 and the Daily Record by 45,000, the two titles that the CD album 20TEN was given away with on Saturday (July 10).
Trinity Mirror, the publisher of the two national titles, said the uplift represented a combined increase in sales of 379,000 on the previous Saturday and hailed the giveaway as "one of the most successful marketing promotions" of recent years.
Mark Hollinshead, managing director of Trinity Mirror Nationals, said: "We are delighted with the huge response to the Prince promotion which has proved to be a successful sampling opportunity for both titles."
According to Audit Bureau of Circulations (ABCs), the average daily circulation of The Daily Mirror was 1,238,145 in May this year. The average daily circulation of the Daily Record was 328,618.
The covermount is the second time that Prince has given away an album with a national newspaper.
In 2007, The Mail on Sunday claimed to have sold an extra 600,000 copies after it gave away copies of Planet Earth free with the paper.
The Mail on Sunday was understood to have paid nearly £1m, including licensing and marketing costs, for the promotion.
No details of how much Trinity Mirror Nationals paid out have been disclosed.
Trinity Mirror Nationals supported its giveaway of 20TEN with a weekly long promotional campaign.