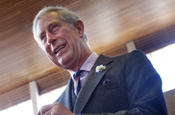 Speaking in a video address to the Association of British Travel Agents' (ABTA) annual Travel Convention, currently taking place in Gran Canaria, the Prince of Wales said it would require an 'heroic' effort from travel brands to educate holiday-makers about the damage they are causing to the environment.
'As the number of travellers increases dramatically, and as the environmental impacts for which they are directly and indirectly responsible become more damaging, the efforts which have to be taken by the travel and tourism business to minimise those impacts need to be on an heroic scale,' he said.
The Prince cited existing sustainability projects, such as ABTA's carbon-reduction programme, 'Reduce my footprint', as ways in which the industry can help tackle climate change. But he added: 'There is so much more that can be done and if we are to continue to enjoy the benefits of travel, we must, I fear, redouble our efforts.'
He also outlined plans to bring together the 'largest ever' public, private and NGO sector partnership to attempt to halt rainforest destruction, and urged delegates to visit the Prince's Rainforests Project website, which details the initiative.