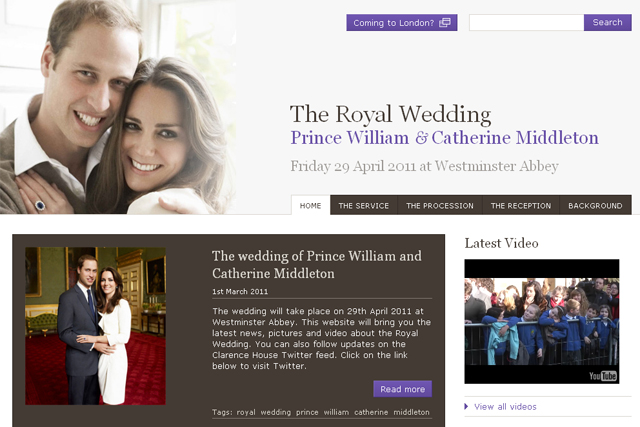 As anticipated, the royal site confirms the soon-to-be princess' enforced royal name change to Catherine, and promises to regularly upload new content ranging from photos, features, videos and links.
According to a statement issued by St. James's Palace, the website, www.officialroyalwedding2011.org, which launched today (2 March), promises to be "the first place to view information such as the details of Miss Middleton's wedding dress".
The site is hosted on Google App Engine, which enables developers to build and host web applications on Google's own computing infrastructure.
It has been created through a partnership between Accenture, who built the site, the web design agency Reading Room who led on the design and creative work, and the App Engine team.
Separately, integrated communications agency, LDR London, has been appointed by Eleven Events to manage the global media launch for its Royal Wedding weekend brand experience, Camp Royale, which takes place on Clapham Common from 28th April to 1st May 2011.
The one off live event is being sold as "an alternative to expensive London accommodation" and targets families, students, glampers and over the 55s.
The Camp Royale will become a campsite for 4,500 tents and 10,500 visitors over the Royal Wedding weekend.
The live event will include a dedicated entertainment and hospitality area with a capacity of 4,900 and covering an area of 14,750 meters square.
LDR London will be responsible for strategic consultancy, communications, media relations and sponsorship activation. Social media will be handled by Reform Digital.