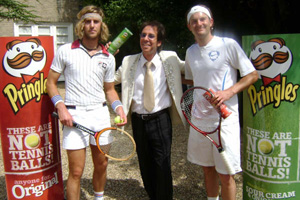 The snack was handed out in its distinctive tube-style packaging, carrying the slogan 'These are not tennis balls!'

Tennis legend lookalikes, including Roger Federer and Bjorn Borg, were joined by a Sir Cliff Richard lookalike to draw attention to the campaign.

The sample tubes were even allowed to enter the club, a huge coup for the brand because it is common practice to confiscate all unofficial 'ambush' products.

The activity gained coverage on Radio 1 and in the Daily Telegraph, Daily Mail and Washington Business Journal, and was hailed as "a fantastic, well-thought out and executed event in a relatively short space of time," by a Pringles spokesperson.
To leave a comment register and let us know your thoughts.